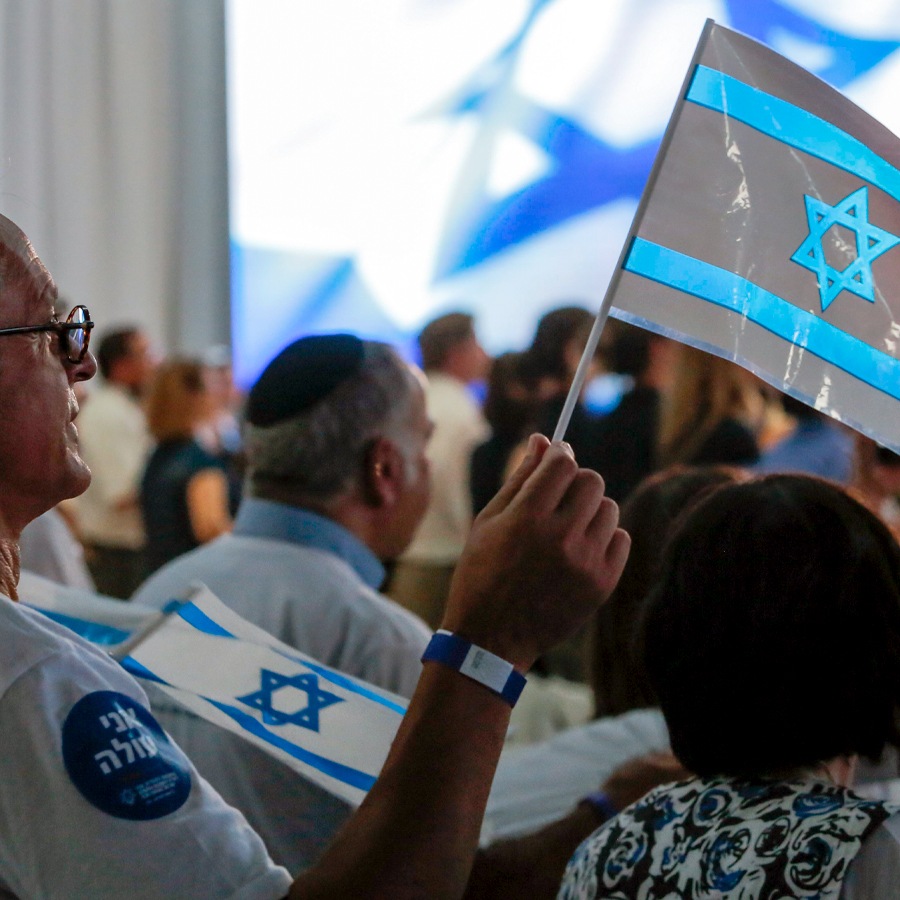 14 Feb

12 Ways to Celebrate Israel's 70th Birthday

1. Host an AL HA-ESH - a barbecue!

Asparagus, Barbecue, Bbq, Beef, Food, Grill, Meat

What could be better than spending time with good friends, enjoying delicious food? Israelis love celebrating with a barbecue – al ha'esh in Hebrew – and anybody who has been in Israel this time of year can see why. To add some extra Israeli flavor when grilling, you can always include staples like pita, hummus, and Israeli salad.

Don't eat meat? The past decade has seen veganism take off in Israel, and large-scale animal-free barbecues have been organized in recent years – including some in honor of Yom HaAtzmaut. Whether you prefer tofu steaks, corn schnitzel, veggie burgers, seitan-based dishes, or just about any other vegetarian or vegan option, today you can enjoy an Israeli-style al ha'esh the way you want. B'teavon!

2. Try out some Israeli technology.

With Israel's booming high-tech scene reaching consumers all around the globe, today you can enjoy Israeli technology no matter where you are. You may already use technologies developed partially or fully in Israel more often than you realize— whether it's the USB drive on your computer, the software you use to chat with your friends, or any of the other Israeli high-tech inventions that shape our increasingly digital world.

In honor of Yom HaAtzmaut, try out some of these technologies that you haven't gotten around to exploring yet. You can take your pick from this hub for Israeli apps – and for more on the latest innovations, check out The Times of Israel's "Startup Israel" section or ISRAEL21c's "Technology" page.

3. The Hebrew word for radio is pronounced rah-dee-oh.

Take in some more Israeli culture, and learn a little Hebrew along the way! Listen to an Israeli radio station like Reshet Bet, Reshet Gimmel, Galei Tzahal, or Galgalatz. Watch Israeli television broadcasts or even stream an Israeli series online. Read the news – in Hebrew, English, or any of the other languages that are common in Israel.

4. Nesiyah tova - plan your trip!

As much fun as you can have celebrating Yom HaAtzmaut wherever you live, there's no substitute for quality time in Israel. If you haven't had the chance to visit yet, or even if you have, celebrate Israel's independence day by planning a trip to Israel! From the beaches of Tel Aviv and Haifa to the religious and historical sites of Jerusalem—from the Negev desert in the south to the greenery of the north, it's hard to run out of places to see and things to do when you're traveling in Israel.

But if you want the purpose of your trip to go beyond just seeing the sights…

5. Check out volunteer and educational programs in Israel.

There has never been a better time to for studying and expanding your horizons in Israel. Programs like Project TEN empower you to make a positive difference in the lives of Israeli citizens. If you're looking for an internship, educational experience or other longer-term Israel experience, Masa Israel Journey makes it possible for you to spend several months exploring Israel...all while acquiring useful skills and knowledge that an impact on Israeli society.

10. Snacktime!

Not all of us are ambitious enough in the kitchen to cook up our favorite Israeli dishes. But you may be able to find your favorite Israeli snacks at a local supermarket. Are you a fan of Bissli or Bamba? Are you all about Israeli chocolate, or do you simply love snacking on anything dipped in store-bought hummus? Whatever your preference, there's no time like Yom Ha-Atzmaut to enjoy it.

11. The Jewish state has lots of people of the book. Read one they wrote.

Whatever Israel-related subject you're most interested in learning about, Yom HaAtzmaut is good excuse to pick up some great Israeli literature. If your reading comprehension is strong enough, check out some classic or contemporary Israeli authors in the original Hebrew. If you're a fiction fan but your Hebrew isn't there yet, enjoy an English translation. Or, if you're more of a history buff, expand your knowledge of Israeli history in Hebrew or English (or just about any other language).

12. Make a Yom HaAtzmaut playlist.

What does Israel sound like to you? Maybe you've spent some time there, have some favorite songs that really take you back to that time. If you haven't, you may have some favorites that you grew up with or have discovered more recently.

Israeli music can be an optimal soundtrack for your Yom HaAtzmaut. Whether you spend the day at the office, hanging out with friends, or curled up on the couch with a book, pick out some of your all-time favorite Israeli songs, then sing and dance along!