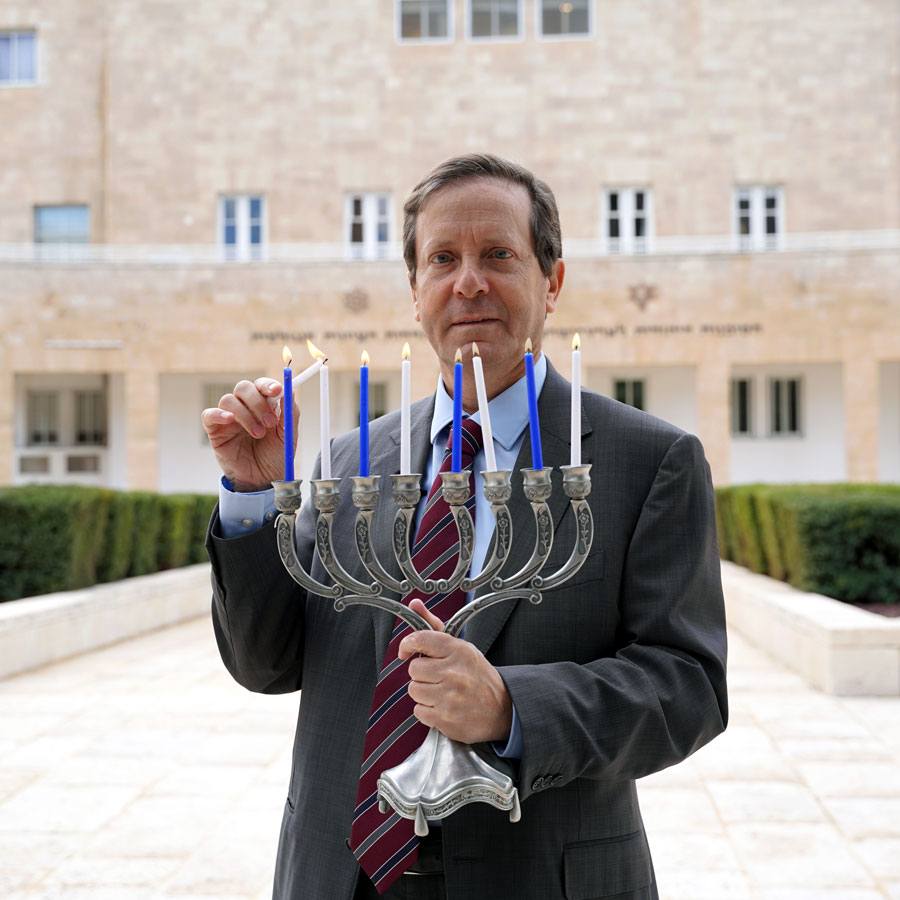 02 Dec

2021 Hanukkah Candle Lighting Event in Israel

A special Hanukkah candle lighting event, "Each Of Us Is A Strong Light," organized by The Jewish Agency and Masa Israel Journey, will take place at the Residence of the President of Israel, Isaac Herzog, on Sunday, December 5, at 18:30 Israel Time (11:30 am EST/8:30 am PST). The event will be broadcast live.

President Herzog will be in attendance, as will World Zionist Organization Chairman and acting Jewish Agency Chairman Yaakov Hagoel, Masa CEO Ofer Gutman, and eight young representatives of Jewish communities around the world who are participating in various Jewish Agency-supported programs in Israel. These programs include Partnership2Gether, Mechinah Kol Ami, Project TEN, Machon L'Madrichim, Masa Doctors, Masa Career, Masa Israel Teaching Fellows, and Masa Volunteer. Rebecca, Nadine and Brad are three participants who will be attending the Hanukkah candle-lighting event.

Rebecca, 22, is a Masa Israel Teaching Fellow from Kennesaw, Georgia. Rebecca first heard about Masa Israel Teaching Fellows (MITF) when she came to Israel on a Birthright trip. Given Rebecca's previous experience in teaching Hebrew school at home, she knew instantly that MITF was something she wanted to be involved in. She loved the idea of being immersed in Israeli and Jewish culture, while also being given the opportunity to do teach.

"To come to a country of Jewish people having grown up and gone to college in areas with not a lot of Jews, it's really powerful to be able to now be in our land with other people like me," Rebecca shared. "I love the school I teach at and the kids are amazing; even though their English is not the strongest, they never get discouraged."

Nadine, 19, from Oslo, Norway, is currently in Israel participating in The Jewish Agency's Kol Ami Mechinah (Jewish Peoplehood Leadership Academy) at Kibbutz Bachan in Emek Hefer for six months. Kol Ami is a gap year experience that pairs post-high school Israeli teens with Jewish teens from around the world.

At Kol Ami, Nadine is learning about leadership, Jewish history, and more, giving her a deeper understanding of her Jewish identity and connection to Israel. Upon returning to Norway, Nadine will visit local Christian high schools and lecture students about the realities of being Jewish in Norway and the importance of fighting antisemitism.

Brad, 20, was born and raised in the Jewish community in Johannesburg, South Africa. An active member of the youth group Habonim Dror, a Jewish Socialist-Zionist cultural youth movement, Brad wanted to give back to his community and to the movement. That led him to participate in The Jewish Agency's Machon L'Madrichim initiative, a training program for youth leaders in Zionist movements around the world. Through Machon, Brad is traveling throughout Israel and learning about Zionism, Judaism, social activism and more.

"The beauty of Machon is that it lets you meet Jews from all over the world in different youth movements and learn about new communities. It's really quite extraordinary," said Brad. "I'm getting to grow personally as well as connect with other Jews and Israelis, and getting to share our experiences really enhances the passion we feel for our movements."
Tune in Sunday, December 5, at 11:30 AM EST/8:30 am PST for a Hanukkah candle-lighting with the President of Israel for the last night of Hanukkah.