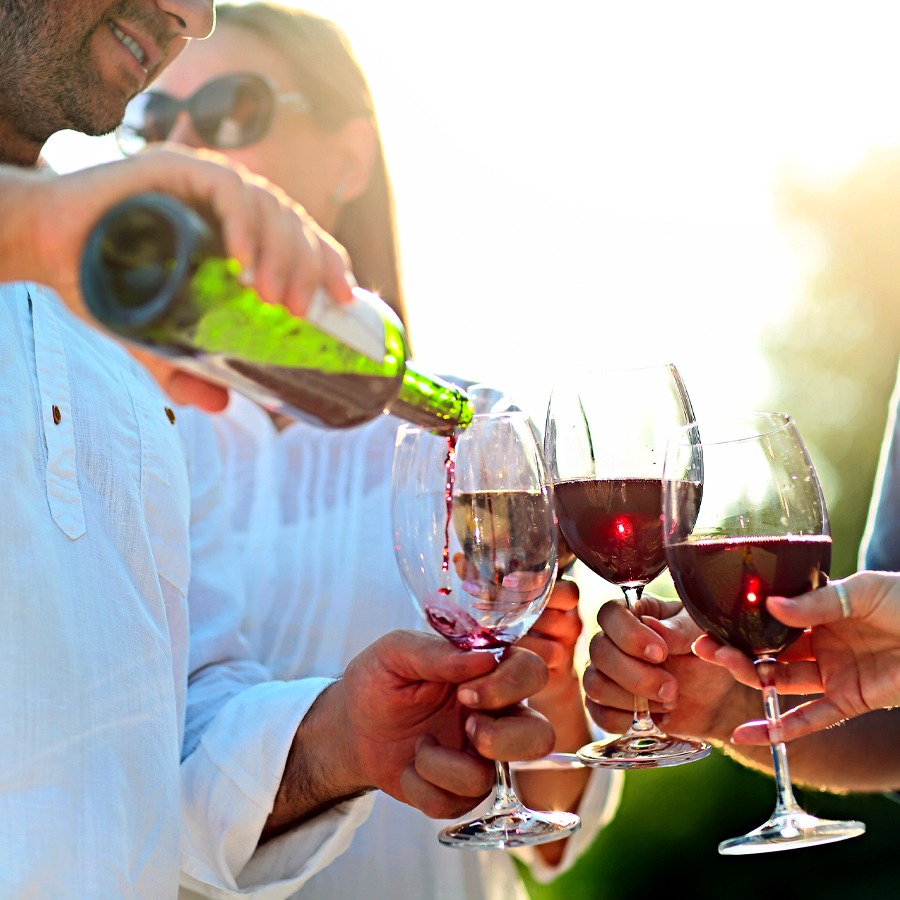 25 Feb

A Journey Through Israel's Exotic Wines

It has been one of the many missions of The Jewish Agency to provide assistance and support to Young Communities throughout Israel. Many intentional communities move to a socio-economically challenged area, where they start a small business to support their initiatives, and empower local residents. And through it all the Jewish Agency is there to help them with building their community, project development, and business management— especially when communities are championing environmental sustainability through organic gardening, water recycling, and the use of renewable energy.

For the burgeoning Israeli wine industry, this program has been vital to the success of up-and-coming vineyards.

In Southern Israel, in Kadesh Barnea on the Sinai border, is Ramat Ha'Negev Winery. It was established by Alon Tzadok and his family, and is the first desert winery in the industry. The family decided to open the winery in 1997, and declared it would rely on local produce alone. The Tzadok family uses desalinated irrigation water only, with no pesticides, and they recycle the pruned branches and fruit waste as natural soil enrichers.

Though many were skeptical of their success, the Tzadoks succeeded in fulfilling their pioneer dream. Thanks to their determination and The Jewish Agency's Loan Funds (Ness Fund), their vineyard produces over 70 thousand bottles of fine wine annually.

Alon Tzadok, applied to the Loan Fund to enlarge his business and vineyard land area, and was given a substantial loan. In 2013, 80 tons of grapes were harvested, producing 70,000 bottles of wine.

In Mitzpe, Ramon, Shmuel Koka of a Young Community enjoys producing high-quality specialty wine in the desert climate. Shmuel (38) was born and raised in Jerusalem. He moved to Mitzpe Ramon to study at Yeshiva Midbara Eden, where he met his wife and established their home together at the Young Community in Mitzpe Ramon.

"Our Young Community took awhile to form as a mission driven community," explains Shmuel Koka. "Our decision to make our home here was not easy and the challenges we face are still big. Today, the young families in our community work alongside the long-time residents to improve and advance education, welfare and residence issues.

"When we moved to this desert town, we immediately thought of entrepreneurial opportunities: tourism, high-tech or agriculture. We applied to the Ministry of Agriculture and asked to grow a vineyard at 800 meters above sea-level, in this special climate. When our proposal was granted, we established the farmers' union, Kerem Ramon, with 14 members. The purpose was to promote local professional Israeli agriculture, to make the desert bloom, and to develop the fields of education and welfare in the community (by transferring half of the vineyard's income to these projects).

"The entrepreneurship was not easy from a bureaucratic nor an economic standpoint. The Jewish Agency recognized right away its importance, and during the last three years supported the project with loans bringing it to eventual success."

Today, 350 dunam (about 87 acres) of wine are planted in the heart of the desert producing quality fruit and wine, and also yielding contracts with big Israeli names in the game like Barkan, Teperberg and Tavor. Recently, a new series was bottled in cooperation with Bazelet Winery in the Golan Heights. To the surprise of many, Mitzpe Ramon is proving itself as a high-quality wine area.

In Meitar, you will find Nissim Sarossi's vineyards. Nissim (60) is planting a new vineyard and planning to open a winery in the Negev for ideological reasons. Hailing from the Negev, Nissim has returned to the soil of his childhood after 28 years in Gush Katif. It took him about eight years to overcome the hurdles of bureaucracy and get the land on which to plant his sweet dreams and good wine.

The new vineyard will have four types of grapes: Syrah, Chardonnay, Malbec, and Cabernet. Nissim thinks one man is enough to tame a vineyard, except during certain periods: "My friends and family promised to help and work with me on the project."

Wanting to embark on this new project, Nissim "looked online and heard from others about The Jewish Agency Loan Fund. The Ness Fund helped me get a loan with great return terms, and they also gave me financial guidance."

"The Negev is the best place to live," claims Nissim unequivocally. "In the past, people thought agriculture here is impossible because of water, but after years of hard work, we now know great agricultural products come from the Negev. I believe it's a great place to grow the best Israeli wine."

In the North of Israel, Kibbutz Shomrat's "Shota" restaurant specializes in Georgian food and wine. The owners decided to open in 2012 with help of The Jewish Agency's Loan Funds (Western Galilee Fund), and now they serve authentic Georgian dishes and experiences in Israel. Alongside the food, the restaurant has a great bar and good music.

Bela, one of the owners, speaks of the great wine culture the restaurant has created for its regular and new clientele: "We import special Georgian wine from a very high mountain region, which yields about 60 types of wine. In the last three years, we have imported various types of wine, one of which has received an international prize for its quality."

One of the more known traditional Georgian drinks is the Chacha. This is a grape vodka made of the wine and grape residues, and can reach up to 75% alcohol.

"When we opened Shota, we decided to focus on authentic drinks," says Bela. "I have a lot of love and respect for wine. I traveled to Georgia to sample wine. There are a lot of fake products because of marketing of Georgian wine through Bulgaria, but we bring good quality wine from a winery 1,800 meters above sea level. The Chacha, though, is the highlight of our restaurant."