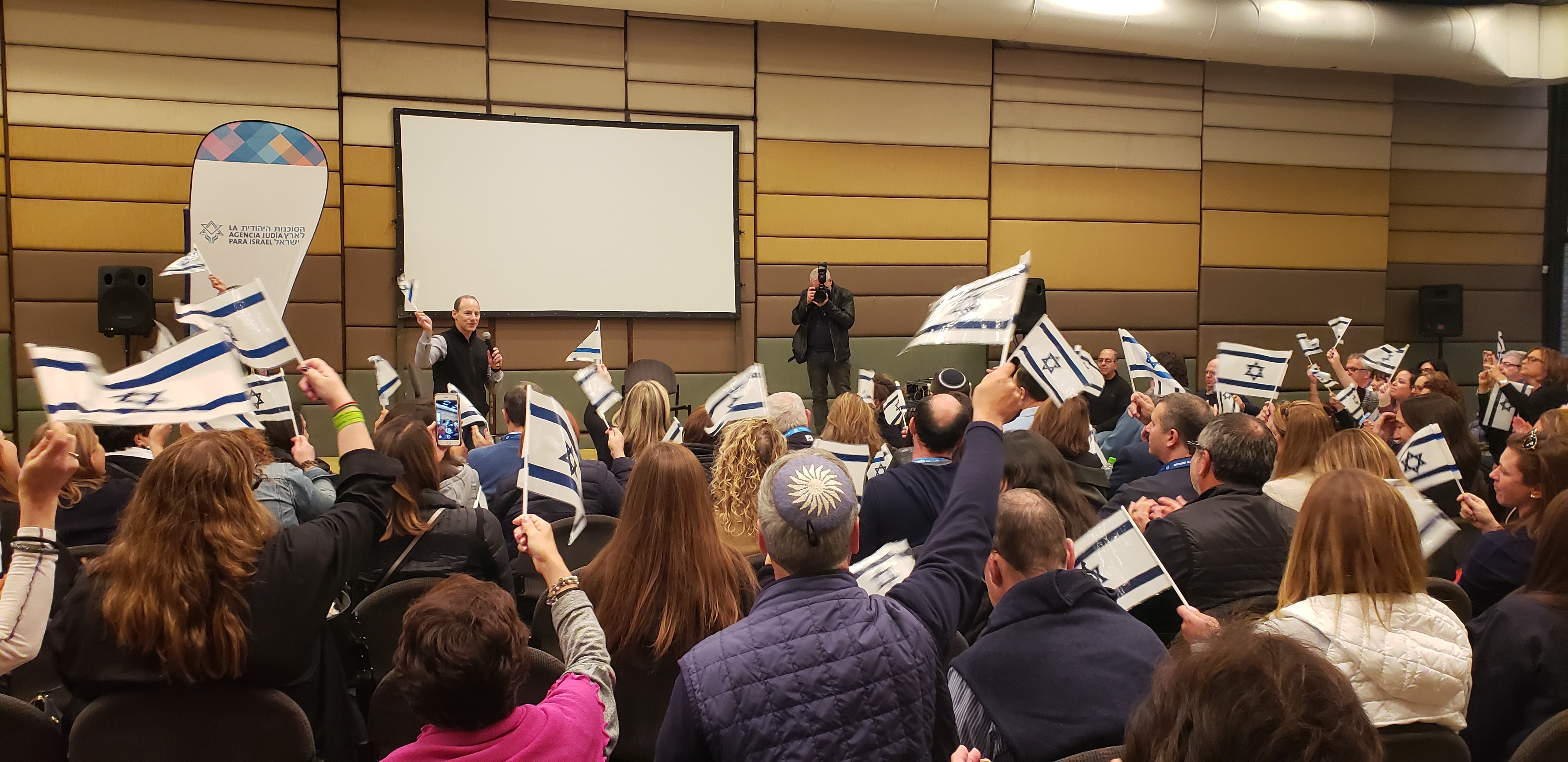 21 Aug

A Meaningful Mission to South America

A Meaningful Mission to South America
In July, The Jewish Agency for Israel CEO Amira Ahronoviz, along with a few other senior Jewish Agency leaders, went to Argentina and Uruguay through a Jewish Federations of North America mission.

Over the course of the trip, participants, including professional and lay leadership from 35 Federations, met with community members and young leaders. Their experience there helped them gain a broader understanding of the history of these countries and their strong Jewish roots.

"The mission was such an amazing opportunity to meet so many of our partners from a large range of Federations. That ability to create personal connections makes it much easier to develop a partnership and dialogue," said Amira.

In Argentina, the group met with young Jews who are Shlichim (Israeli emissaries) and Diller Fellows. They also saw the effect that The Jewish Agency's BAMA platform has had on the community. BAMA, which was founded in 2002, to support the local Jewish Education system in one of its most severe times, still serves more than 54 schools in Argentina today and trains more than 1,000 educators annually. It's been a crucial resource for Jewish educators in the region, providing professional support to teachers, school administrators and informal educators, and helps bring innovation and leadership into the school system. We also learned about the essential role the Zionist youth movements still have in the local community in Buenos Aires and the peripheral interior communities and in nurturing future leaders.

With political elections coming up, Argentina is on the verge of another economic crisis, which has influenced Jewish life. These economic constraints will likely spur new challenges funding Jewish life and local needs such as the ability to finance Jewish schools, youth movements and Israel programs. Over time, if this escalates, it may also create increased demand for Aliyah.

Before leaving Argentina, participants sent off Olivia and Julieta, two young women who were making Aliyah. Both of them attributed their desires to move to Israel to past Israel experiences through Masa Israel Journey. Prior to going to the airport, The Jewish Agency had coordinated a touching video for them, filming Israelis welcoming the two with open arms (watch it below).
It's been a special honor for me to be invited by JFNA to accompany their important FRD Mission and I am confident this will open many new doors for us to work closely together.
The Mission then went on to Uruguay, where they were introduced to the ShinShinim (Israeli gap-year emissaries) who had been serving in the community.
"The Shinshinim in Uruguay particularly amazed the people on the mission. These young, energetic, just out of high school Israelis came to Uruguay and were really embraced by the school and community. They have been very active, making a huge difference," said Amira. "They have embedded themselves into the local and Jewish scene and help reinforce Israel connections. Their impact is indelible. Beyond the kids and the schools, it is just heartwarming to see the amazing relationships they formed with their host families that will for sure last for life."
In the past, Argentina has not had ShinShinim in their community. But because they have been so influential in Uruguay, Argentina will have ShinShinim coming to their country for the first time next year. Their work in the community will be facilitated by BAMA as part of our educational services to the community.
"This Mission gave us a chance to come together and enabled us to express the importance of the collective. A great example of that was the special attention focused around the needs of one of the most at-risk Jewish communities in Latin America today, Venezuela. This enabled us to learn together about their challenges and design imperative joint work of the collective to support them," said Amira. "I know we all came away from the trip appreciative of the unique opportunity to meet with other professionals in the Jewish world and see firsthand the work being done in South America."
"And it definitely inspired us to think of new ways we can engage with the younger generation while infusing a love of Israel and connection to Judaism. It's been a special honor for me to be invited by JFNA to accompany their important FRD Mission and I am confident this will open many new doors for us to work closely together."