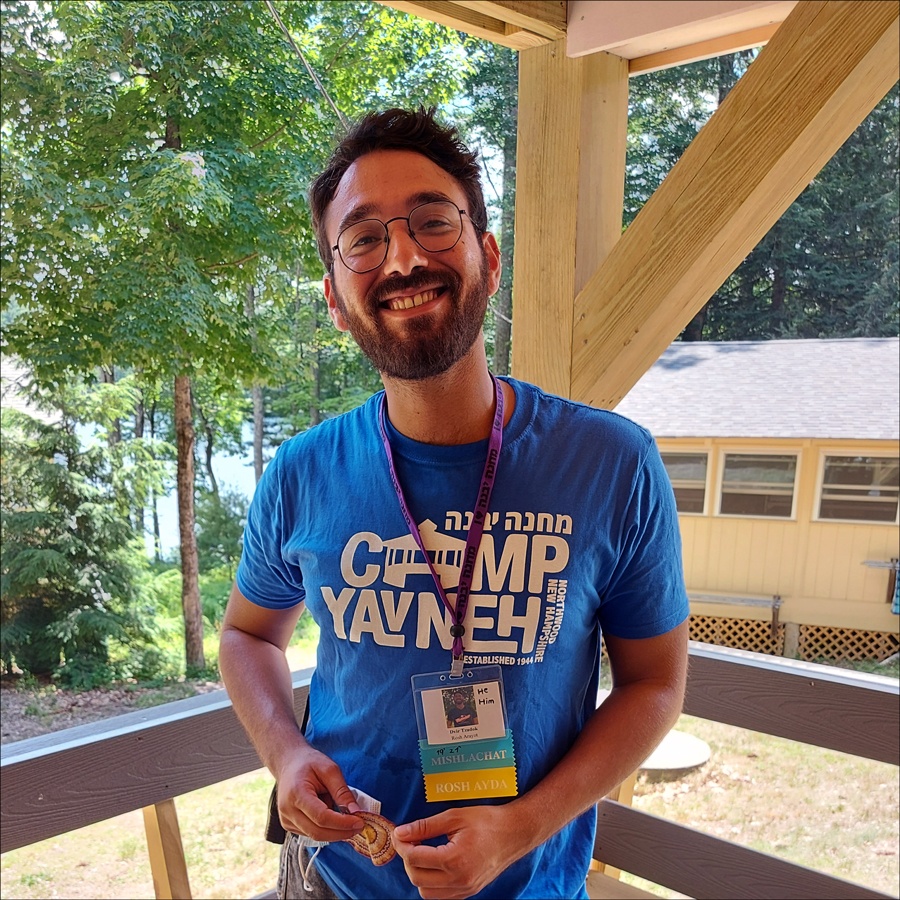 30 Jun

Dvir, Summer Camp Shaliach
Balancing Education and Fun | July 20, 2021
Our second week of camp is underway and things are going great!
This week, the three youngest age groups celebrated Yom Israel, a whole afternoon designated for activities about Israel to make the kids grow to love and get familiar with the culture of the country. We decorated the dining hall where we eat with blue and white banners, flags, and a lot of balloons!
The whole day was shvil israel (Israel national trail)-themed. We had a few stations that introduced places throughout Israel such as Haifa, the Dead Sea, and Jerusalem. Other stations taught what the places symbolize. For example, Tel Aviv was about respecting everyone, Eilat discussed where the flag of Israel originated, Kinneret covered the water crisis in Israel and many more important places!
The day was amazing and the kids had an incredible time thanks to all the amazing camp Shlichim.
The second activity we had this week was a madlud which stands for "madrichim lomdim," meaning counselor learning. A friend and I led a session about Israel and antisemitism. We talked about how we can discuss and perceive certain unfounded criticisms of Israel as not just criticism, but as an antisemitic notion and covered The three D's: Demonization, Double standards and Delegitimization. We also talked about the Israeli-Palestinian conflict and the consequences that posting an uneducated opinion on social media can have — especially as a Jewish person.
Overall, we are trying to balance camp being fun with also being educational and helping the campers and counselors alike develop a love of Israel. Even if we don't all live there, it is still a place that we all can call home.
An Introduction to Camp Yavneh | July 13, 2021
I want to tell you a little bit about my camp, its mission and the processes and questions we are currently facing.
Camp Yavneh is a camp for "Klal Yisrael" which translated to "all of Israel." This means anyone who defines himself as a Jew — no matter what stream of Judaism they come from (Orthodox, Conservative, Reform or anything else) — is welcome to be a part of the camp.
I believe the goal of the camp is to provide an experience of Klal Yisrael, to recognize the different streams of Judaism and the way they operate to create a special Jewish community that crosses the various streams.
Because of the understanding that prayer is a personal thing that needs to come from a real place for each individual, throughout the week there are several minyan options so each person can pray in the place that is most comfortable for them. On Friday evening and Shabbat day, there are communal prayers in which the whole camp prays together in the minyan that has a partition separating boys and girls.
Recently, in the US and globally, awareness of LGBTQ people has grown, allowing more and more people to come out and be who they really are, often defining themselves by their inner affiliation and not by a specific gender. And this summer, we have a number of campers who define themselves as nonbinary (not identifying as male or female). Because of their identities, they feel they have no place to pray in the minyan with a partition, which has only two sides: boys and girls.
And therein lies the problem. As a framework that defines itself as 'Klal Yisrael', we want to make everyone feel as comfortable as possible and understand the value of including different ways of life. In the past, this meant bridging the gaps between the various currents in Judaism. Today, it is a matter of making the camp accepting of anyone — male, female, and nonbinary — who wants to take part in the camp.
We want to be a community that does things together as a community. But I know that no one stream necessarily feels completely comfortable. However, everyone does feel we are a community. And that is powerful and makes our discomfort worth it.
I am very grateful we are able to unite as a Jewish community. In Israel, this is the most obvious thing, but here? It takes effort. And part of that effort is to be uncomfortable. Especially if one chooses to be in a camp that accepts everyone, because unity does not mean uniformity, and that requires compromise.
GET TO KNOW DVIR:
Why did you decide to be a summer camp Shaliach (Israeli emissary)?
This is my second year at this camp, and I came back because I fell In love with the Camp Yavneh community.
Why do you think that Camp Shlichim are important?
Shlichim are very important at Camp Yavneh as they interact with everyone — staff and campers alike — on a daily basis. And as Shlichim, we have two big roles. One is to bring the culture and favor of Israel to camp. The second is to make Israel accessible even for young campers that have never been there and really act as an "emissary."
What do you think your biggest challenge will be?
Leading 63 kids and 13 counselors is daunting but my co-Rosh Edah and I make a great team, combining our Yavneh experience and educational experience together — but there's still much to learn!
What's a fun fact about you?
When I was in preschool, I choked on a circularly cut carrot. Because of my choking incident, Israel made a nationwide rule that carrots cannot be cut into this shape in order to prevent other kids from choking as I did. In conclusion, I saved all the children of Israel from carrots. 🥕