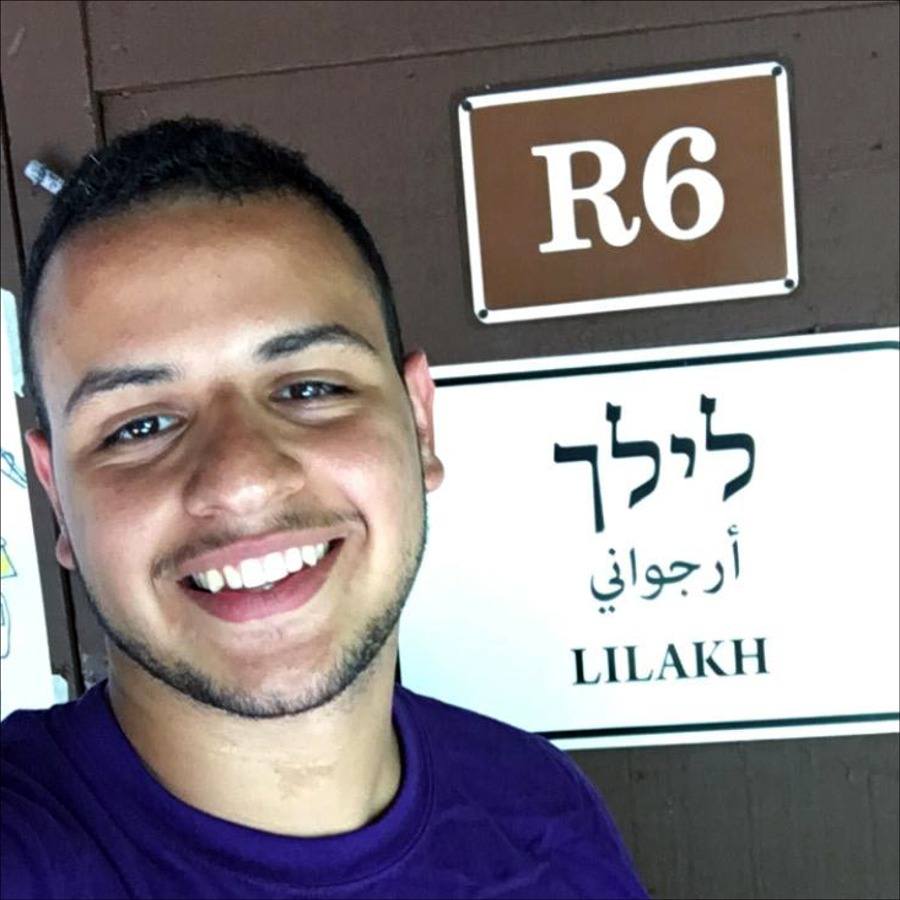 01 Jul

Elihay, Summer Camp Shaliach
A Summer to Remember | August 16, 2021
I can't believe that it's happened but the last week of camp arrived. We spent that week having so many experiences that will stay with us for a long time — and even if we forget the experiences themselves, we will never forget the feelings we had in those moments. The warmth in our hearts and the feeling that we are in a safe place that is a home for us.
We started the week with a ceramics activity, and I was so surprised by the amazing art that my campers did. After that, we had a sandcastle competition with the rest of our Edah and we had such a good time.
Later on in the week, we got the chance to do a nature hike to the waterfall area at camp, and we swam and built a few rock statues. The waterfall is an experience that all campers anticipate and really enjoy. We also built a few nature shelters made of wood and leaves and actually thought about sleeping there because they were so well done.
Also in this session, we got the chance to celebrate the birthday of one of my campers, and I'm happy we created a great experience that he won't forget. Celebrating birthdays at camp can be challenging but we organized the celebration to ensure he would enjoy the day as much as possible. We bought a cake, decorated the table and sang him a lot of songs.
We also practiced for the most amazing part at camp, which is the CAMP SING. We practiced the whole week and put on such a great performance. Two days after, the last day of camp arrived. Saying goodbye was really hard, the kids I got to be a counselor for are going to stay in my heart forever and the memories, the experiences, and the warm feeling in my heart will stay with me.
I want to thank Camp Havaya for giving me the opportunity to be here and to do fill the amazing role of a Shaliach at camp. I felt I really had a meaningful impact on my campers as a representative of Israel.
End of Session Two. End of Camp, Summer 2021.
Zipping into Second Session | August 13, 2021
We started the second week of the second session with a campfire. And what was really special was the fact that the campers had been taught how to build a campfire by themselves in a Teva (nature) lesson a few days before. They made such a great fire that was perfect for making s'mores.
The next day, at a music activity, we learned some new Jewish songs and we actually recorded a full song. Many of the other cabins were recorded too and we made an actual choir when they mixed all the recordings together.
That evening we had a movie night and after that, we did trivia about camp and Judaism with all the cabins in our Edah participating.
Later on this week, another counselor and I were responsible for making a talent show. We dressed formally and there was a great show full of amazing talent, including acrobatics, singing, dancing and standup. It seemed like the kids really loved that and they cooperated wholeheartedly. In the show, all of the Israeli counselors and campers came to the stage and we sang a song in Hebrew that we practiced before so it was really meaningful and fun for all of us.
Another thing that the campers were really looking forward to is the zip-line. At camp, there is a zip-line that crosses the lake and it's so beautiful and exciting to do. We all did it and it was really memorable and awesome.
A New Session Begins | August 5, 2021
That day when my campers left after four weeks was really hard for me; however, what really helped me was the understanding that I would be meeting my new campers the next day.
The opening day, of course, was a really exciting day. As the cars got into the camp area, the staff welcomed them with love, singing and dancing. I had 11 excited campers full of happiness and wearing big smiles arrive at my cabin for the summer and for the Havaya experience.
This session, I will be a counselor for 7th-8th graders, which are older kids than I had in the first session. We opened the day with COVID-19 rapid tests and by explaining how camp works now. The next day, we did some activities, including swimming in the pool and in the lake, sang some songs and did some icebreakers. And of course, we also had a BBQ to celebrate the start of the session.
Later on this week, another Israeli counselor and I did an activity about Israeli games for all of our Edah. We wanted to represent our culture to the campers through our childhood games and basically our life. We decorated the whole place with Israeli flags, made some signs in Hebrew and also inflated blue and white-colored ballons.
Then we divided the Edah into groups and had each group go through the various game stations and play with us. We played lots of Israeli games which my campers really enjoyed and that made us really happy. And even after that activity was over, they kept asking again later if we could play those games.
The first week moves so quickly and Friday and Kabbalah Shabbat soon arrived. On Shabbat, we learned some new prayers with Persian melodies. I also taught my campers the Yemenite melodies to some songs that I usually sing at my synagogue in Israel and they then taught me the melodies they knew. And so we were all exposed to new worlds of Jewish music.
The End of A Session | July 30, 2021
Here at camp, we have session Aleph and session Bet. This fourth week is the last week of the Aleph session so it was really special on a different level. We started the week with every cabin being assigned a different song, and for that song, each bunk needed to perform a special dance that they made up in an event called Camp Sing.
We were given the "Phineas and Ferb" theme song. Although we danced to the English version, we used this opportunity as a platform to teach the campers the Hebrew version of the song and compare the differencess between the translations.
Camp Sing is an event that everyone really looks forward to. We practiced constantly and in the end, we gave such a good performance. Although we didn't win, our cabin had so much fun performing together in front of the whole camp that winning was not even important to any of us.
The day after the competition was Friday, and I don't think I'll ever forget the Kabbalat Shabbat that we had. We all sat together, hugging each other as we sang songs to welcome in the Shabbat, which made me excited and emotional. That was the last day of this session, so there was also the bittersweet feeling of saying goodbye. Although it was cold outside, it seems that inside there was a special warm feeling, like the feeling you get when you are surrounded by the people you love.
The next day, the campers returned to their homes. I didn't think it would be so hard but I connected to my campers so much and I will miss them a lot. We say goodbye sadly to every camper who leaves with their parents, however, I'm so happy for the amazing friendships that were created, for new connections and for the experiences my campers got to have.
Lessons from Camp | July 25, 2021
When I was young, my parents taught me to "love your neighbor as yourself" and to treat every person like they are my friend — and here at Camp Havaya, it's just like that. I think there is no day that I'm not totally surprised by the way our campers are kind to each other. It starts in sports games, where for them, is not important if they win or lose, the only thing that is important is to have fun. It continues by them being supportive of everyone.
Every afternoon, we get "Nishnush"(snack), and one day this week, a camper from another cabin dropped his nishnush on the floor. Immediately, one of my campers just brought him most of his snack, simply because he wanted everyone to have the chance to eat the snack and feel equal.
It's hard to explain how exciting it was to see this situation play out among 10-year-olds, but for them, it was just obviously the right thing to do. Later in the week, one of my campers had a birthday, so I decorated our whole table for him, and in the morning he was really surprised. The entire camp also sang him Israeli birthday songs thanks to the tradition we have here to sing to anyone who has birthdays.
The other day, my co-counselor and I decided to do a special bunk activity outside of the cabin. We decided to "sneak out" without being noticed. Each of the campers got a special nickname, we all wore black, we walked only using flashlights and we spoke only with code words that the kids had chosen beforehand. Together we walked to the lake, hiding from people, and then we sat by the water and sang some songs, ate candy and shared some funny stories. I told the campers that it reminded me of my basic training in the army and shared some stories from my experience in the IDF, about the good friends I met and the meaningful job I had.
Trying New Things | July 18, 2021
It felt like just a second, but the first week passed quickly and now the second one has arrived. We started the second week by celebrating the fourth of July. We had a barbecue and fireworks above the lake at camp. Some of the campers had never seen fireworks in their life or had only seen them a few times so it was an exciting experience for all. I told them that the fireworks remind me of my home, Israel, and the fact that my family and I go each year to see fireworks and also meet my cousins.
Throughout the rest of the week, I found out just how many American sports I don't know at all or don't know their rules for. My campers were shocked that I'd never heard about the game "Gaga" and that I didn't know the rules of football. However, this motivated them to teach me how to play every game and also to show me how good they were at these sports.
On one of the evenings this week, we had a campfire with everyone in our cabin. We sang songs together and roasted some marshmallows on a stick — I actually tried eating S'mores for the first time, a fact that really surprised the kids and made them interested in whether I liked it or not. And of course, I totally liked S'mores! 😉
This week we also learned how to count to 10 in Hebrew. The campers found it a bit difficult at first but now they feel really comfortable with it. I hope that from week to week their vocabulary in Hebrew continues to expand!
And So It Begins… | July 7, 2021
On Sunday, when the camp gate opened to the first car, all of the staff stood up, so excited that after two years the camp is back to normal. More and more cars arrived, bringing kid after kid that slowly filled up the grass that had been empty for so long. With the kids now at camp, the cabins filled with joy and voices, and my kids, in particular, are such a gift.
I'm a counselor for 5th-6th grades and I'm so happy about that. On the second day of camp, we all woke up an hour before the alarm just because we were so excited. One of my campers felt pretty shy about putting on his glasses, and when another camper saw that, he immediately took out a pair of glasses that he usually does not wear and put them on him so the other camper wouldn't be shy. Of course, thanks to him, the first camper put on his glasses.
It was amazing to see the love and acceptance my campers show to others and to their surroundings. And that's without any intervention or request from me. I did talk to that camper about being proud of his glasses and happy about them, but this first step of wearing them happened only thanks to his friend.
That one instance made me realize how much I won the lottery to be a counselor for this group of kids. My campers also really like Hebrew and every day we learn new words such as breakfast, food, sun, sunscreen, water bottle, mask, fun, games, circle, etc.
I really like to see their willingness to embrace Israel, whether it's by sharing with me stories about their last trip there or asking me questions about Israel and various locations within the country. Most of them are studying in Jewish schools or at least have a Jewish program in their school but I can still see they have so many questions and want to learn much more.
GET TO KNOW ELIHAY:
Why did you decide to be a summer camp Shaliach (Israeli emissary)?
I wanted to represent Israel and teach American kids about Israel in addition to teaching them Hebrew. I also wanted to expand my knowledge of Judaism in America and connect personally to American Jews.
Why do you think that Camp Shlichim are important?
I think that Shlichim are so important because we give campers a chance to meet Israelis in real life who prove that Israel is frequently not portrayed properly in the media. Plus, we help strengthen campers' Jewish identities.
What are you most excited about?
I am really excited to meet young Jewish Americans and hear their stories. I'm looking forward to learning about their Jewish communities and how they practice Judaism.
What's a fun fact about you?
People can recognize me by my laugh, it's pretty unique and funny! 😀