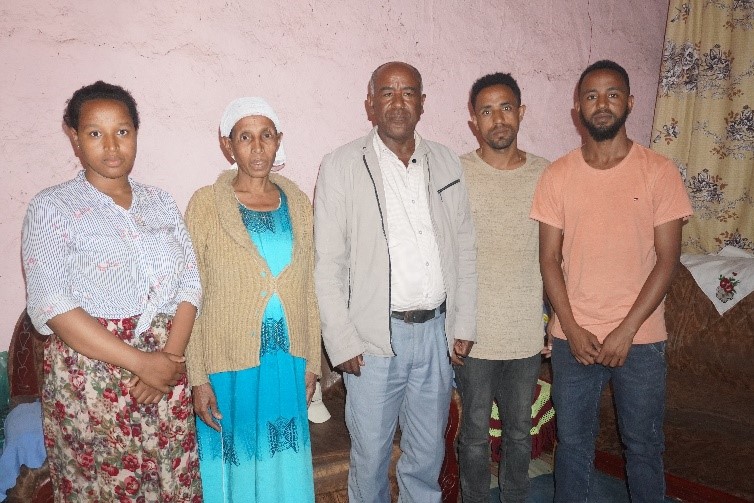 30 May

Ethiopian Aliyah: Worknesh's Story

Ethiopian Aliyah: Worknesh and Her Family to be Reunited at Last
After waiting 12 years to make Aliyah, during which her father died just days before he was to move to Israel, Worknesh and her family are finally to reunite with her mother and brother in Israel as they immigrate as part of the continuation of Operation Zur Israel.

Worknesh Gato's parents were going to make Aliyah three years ago. But their story didn't go as they had hoped. Instead, just seven days before they were scheduled to make Aliyah, Worknesh's father died.

Worknesh is now 62. She has been married to her husband, Gizat Mekonen, for 37 years. For the past 12, they have been waiting to make Aliyah.

This piece of their dream is finally coming true, as they plan to make Aliyah in the coming days as part of the continuation of Operation Zur Israel along with their three adult children, ages 24, 28 and 32.

Education is a strong part of their family's values. Workanesh's husband, Gizat holds a bachelor's degree in English literature and worked as an English teacher for 40 years. The couple believes education is the key to a better future, and this is precisely how they raised their own children. They speak with pride about how all of their children earned college degrees from universities in Ethiopia.

Their son Enduelem vividly remembers the days when they had to survive on their father's salary alone and their mother stayed home to take care of the children. Yet she made sure they had everything they needed and always greeted the children with a smile when they came home from school.

Life in Gondar wasn't easy, as the family endured difficulties in renting an apartment due to discrimination stemming from their religion, on top of the challenges of maintaining a Jewish lifestyle there.

Due to financial constraints, the couple made do without many luxuries. They didn't buy new clothes and lived in a small, modest home so their children could enroll in higher education.

Today, Enduelem appreciates his parents' efforts, and the example they set for him and his siblings. Once he is a father himself, he plans to pass on his parents' legacy of valuing education.

For now, the children are thrilled that the family will be reunited with their grandmother and uncle after so many years apart. As for Gizat, his dream is that his children continue to flourish and learn so they can meaningfully contribute to the State of Israel.