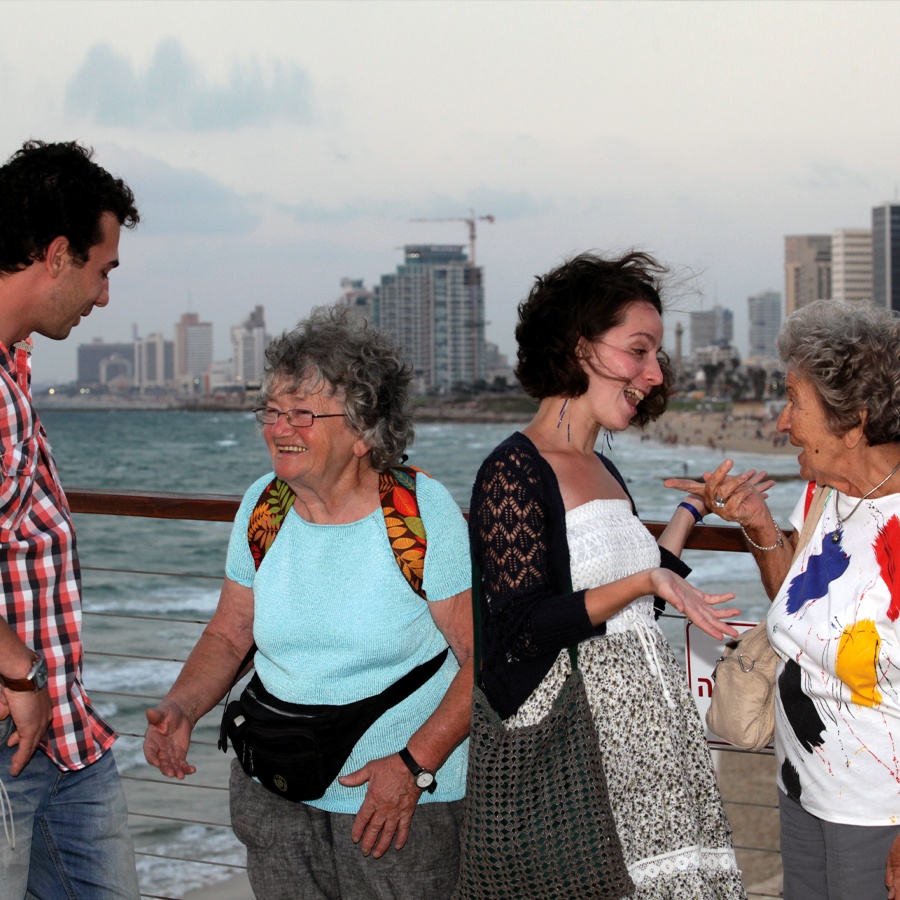 19 Feb

For generations

The Intergeneration program is unique opportunity established by The Jewish Agency for Israel together with the American Joint Distribution Committee. The program typically provides Taglit-Birthright-style—free 10-day educational trips —to young Jewish Hungarian adults and Holocaust survivors who've never been to Israel, a chance to visit the Jewish homeland, together.

As they age, many Holocaust survivors wish to remember more, and connect others to their stories. Many are often disheartened since they perceive the second generation as uninterested. However, they find an ability to profoundly impact the identities of the younger generations. Engaging with third-generation youths both empowers them and facilitates personal healing. By providing a joint Israeli experience, Intergeneration fosters a deep sense of shared destiny between two generations that are decades removed.

Andrea Szőnyi, the program coordinator, says that despite Hungarian Jewry's complex history entangled in the Holocaust and Soviet Communism, the younger generation "is starting to find its own way and clarify its identity," and is seeking out programs like Intergeneration which both honors the past and looks to the future.

For eighty-two year-old Árpád Herczeg, who went on the trip, his circumstances were unusual. Not only because he worked for the UN in the USSR, nor because he was stationed in Mongolia. It's because Árpi lived in Israel from 1945 to 1950. Árpi represents living history, which is vital to the foundation of Jewish peoplehood.

During World War II, his family was dispersed—his father shot, and he was taken to a concentration camp across the border in Austria.

In May 1945, Árpi returned to an empty place that was no longer home. So, at age 13, he came to British-Mandate Palestine.

As he had no papers, his first address in his new country would be the Atlit detainee camp. He later went to the Ben Shemen Youth Village, where he learned Hebrew, met David Ben Gurion, and heard the declaration of The State of Israel. Árpi joined the Hagana Leumi in fighting to defend Israel's newly created independence.

He returned to Budapest in 1950 after discovering that his mother had survived Dachau. He gained two degrees, built a career and a family. And, until the Intergeneration trip, never came back to Israel.

Árpi's Intergeneration group spent eight days travelling around Israel, from north to south—including Tel Aviv, the Dead Sea, and a kibbutz on the Kinneret settled by Hungarians. A difficult and moving day was spent at Yad Vashem and the Western Wall.

The journey, in fact, started eight months earlier. After an intensive selection process, the group began to meet in February. They gathered once a month to share their stories. The younger participants were required to research and present an aspect of Israel that interested them. Later, each participant was paired with an elderly Holocaust survivor.

Árpi paired with Balázs Várnai, a 32 year-old architect. What touched Balázs most about the program was the way in which the survivors "opened their stories" to the younger participants. Sometimes, these were stories the survivors had never told. They were being heard by members of a younger generation, some of whom had never known their own grandparents.

The tour culminated in Jaffa, Árpi's last address in Israel in 1950. He was visibly awed by how much Israel had developed in the intervening years, describing the rations of quinine they were given with each meal to prevent malaria, and the wild animals which roamed outside their windows. He said that Balázs's generation "could not imagine what Israel looked like then"—a desert of uncultivated terrains.

L'dor va'dor - from generation to generation.