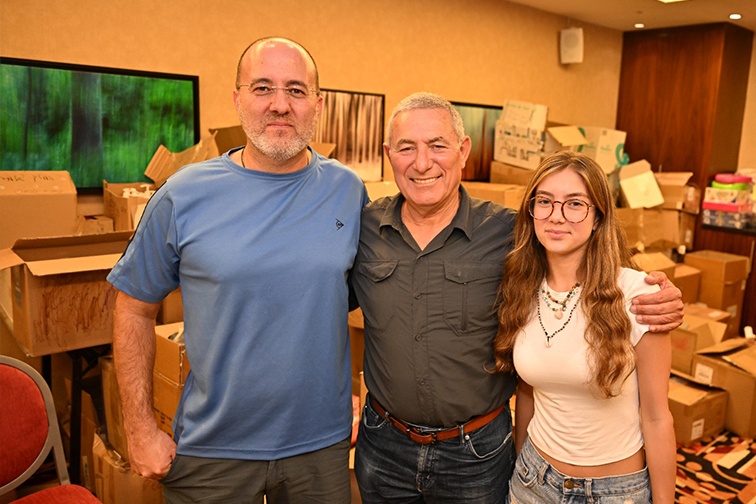 17 Oct

Jewish Agency Chairman Doron Almog Meets with Family Affected by Terror
Jewish Agency Chairman Doron Almog Meets with Family Affected by Terror
Jewish Agency Chairman Doron Almog met with the Bar-Gil family, whose kibbutz was attacked by Hamas, and offered support
Jewish Agency Chairman Doron Almog Meets with Family Affected by Terror
Jewish Agency Chairman Doron Almog met with the Bar-Gil family, whose kibbutz was attacked by Hamas, and offered support
On Saturday, October 7, the Bar-Gil family from Nirim was evacuated from their home after being besieged for many hours following the infiltration of Hamas terrorists into the kibbutz. When Jewish Agency Chairman Doron Almog met with Rami, the father of the family, Rami recounted the ordeal they went through:
"It all started at 6:30 a.m. on Saturday morning. My daughter was at a friend's house and called us from the road to say she was making her way back home when suddenly, an IED landed right next to her car. She immediately got out of the car and ran for shelter. I got up in a panic and raced over in my car to pick her up, but when I got to her we couldn't leave the shelter because of the rain of the rockets. While we were in the shelter, we started hearing gunshots and that's when we realized that there were terrorists in the kibbutz. After about two and a half hours inside the shelter, it seemed the fight outside had calmed down a bit, so I made the decision to leave the shelter.
My daughter and I got in my car and flew to the house. My son, Tomer, waited for us there, and we ran to him in the shelter and broke the handle of the door to our safe room (a lot of people did this so that the terrorists wouldn't be able to open the shelter from outside). As soon as we got in, we heard a very loud explosion that shook the whole safe room. Then we realized that an RPG missile was fired at the house and a battle was happening behind our home.
Around 17:00, security forces arrived and rescued our family. When we saw the security forces, it felt like we saw angels in white taking us out of this hell. And it was hell. It felt like the movie Armageddon – everything burned, dead bodies on the side of the road. The most innocent things like children's toys thrown on the floor in disarray. Like in a movie about an atomic bomb.
At first, the residents were directed to a central emergency department in the kibbutz where they met with other neighbors who had been besieged in their home.
Ella, my daughter, soon discovered that her best friend whom she had grown up with had been murdered, as had her friend's father.
We are a small agricultural community, and we all know each other. It's terrible to see people you know murdered. The kibbutz was almost completely destroyed. Now we are staying in a hotel in Eilat and trying to figure out what's next for us. I have no idea what will happen now. How do we restore our lives, the kibbutz? We will have to start all over. To support the children, the women, and the older residents who experienced a second Holocaust in their lives. And we will need all of the Jewish people's help to do this."
The Fund for Victims of Terror is made possible by the generosity of the Jewish Federations of North America / United Israel Appeal, Keren Hayesod, foundations and donors worldwide and people like you. Our aid is critical for victims' immediate well-being and long-term recovery and we are currently operating and supporting more victims on a wider scale than ever before. To support the Fund, donate here.