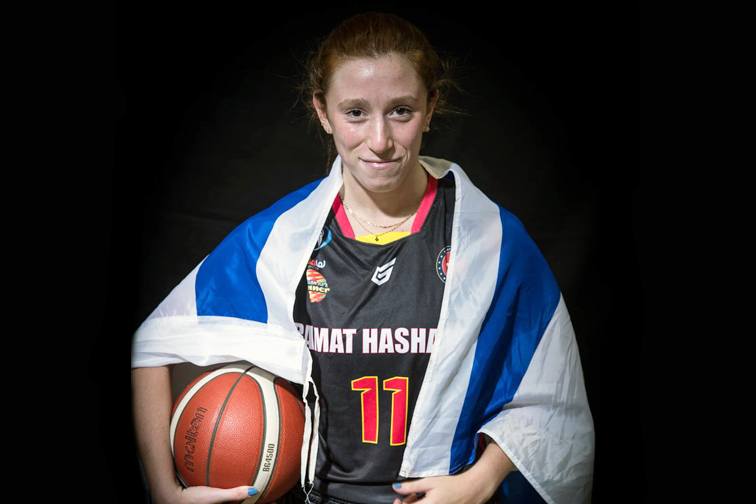 18 Jan

Living Her Hoop Dreams in Israel
Living Her Hoop Dreams in Israel
Leila is proud to be living in Israel, having made Aliyah in September 2022, and even more proud to be playing basketball for the A.S. Ramat HaSharon team.
Living Her Hoop Dreams in Israel
Leila is proud to be living in Israel, having made Aliyah in September 2022, and even more proud to be playing basketball for the A.S. Ramat HaSharon team.
Growing up in Englewood, New Jersey, Leila, 21, went to Jewish day schools and camps, and did a gap year when she graduated high school at Israel XP: The Israel Experience at Bar Ilan University. She always wanted to make Aliyah, and both of her older siblings have, but with an offer to attend college for free and play basketball from the Macaulay Honors Program at Baruch College in New York City, she instead returned to the U.S.
"I was still always thinking about Israel, but the ability to play college basketball and get my degree for free was too good an offer to pass up. But then it was COVID so I did a year of Zoom school. In 2021, I was able to start playing basketball with the team but I quickly realized it wasn't really compatible with being an observant Jew; practices were on Friday nights and games on Saturdays," recalled Leila. "I didn't want to compromise religiously and felt this must be a sign."
In October 2021, Leila decided she wanted to move to Israel; but she still had dreams of playing basketball and was determined to do so in Israel, despite not really knowing how or if it would be possible. She also wanted to finish out her second year of college, and doing so would allow her to figure out some of the logistics of making her Israel basketball hopes a reality.
She started the process of applying for Aliyah in January 2022 and made Aliyah in September 2022.
"The Aliyah process and paperwork were pretty overwhelming. Luckily, my advisor was really helpful," Leila shared. "I couldn't have made Aliyah without The Jewish Agency and Nefesh B'Nefesh and the support I got along the way was crucial."
Since arriving in Israel, Leila has been living in Herzliya, enrolling as a student at Reichman University (formerly known as IDC, Interdisciplinary Center Herzliya) – and she also plays basketball full-time on the A.S. Ramat HaSharon basketball team, a professional basketball club in the Israeli National League.
"There's 10 of us on the team: three from the US Women's National Basketball Association (WNBA), six Israelis and me, and it's been such an incredible experience," explained Leila. "It's super rewarding to know I get to train and learn and push myself alongside these really talented players… I mean I'm just a girl from New Jersey!"
Since joining the team, Leila and her fellow players have competed in the EuroCup Basketball tournament and traveled to four different countries for games.
"It's honestly so cool, here I am playing in an Olympic stadium when last year I was just playing in a gym on the Lower East Side of New York City," gushed Leila. "I'm definitely learning a lot and trying to prove myself but I'm living my dream."
With her Hebrew skills steadily improving, each day Leila feels more and more settled in Israel.
"Knowing I get to live here in Israel as a citizen, that it's my everyday life, is amazing and makes me so proud. The people are really incredible, it's like a family… you know you're living in a Jewish state and I feel really at home here," shared Leila. "To anyone thinking of making Aliyah, I know it seems scary and overwhelming—and it is—but you won't regret it. So take the leap and shoot your shot; it's worth it!"