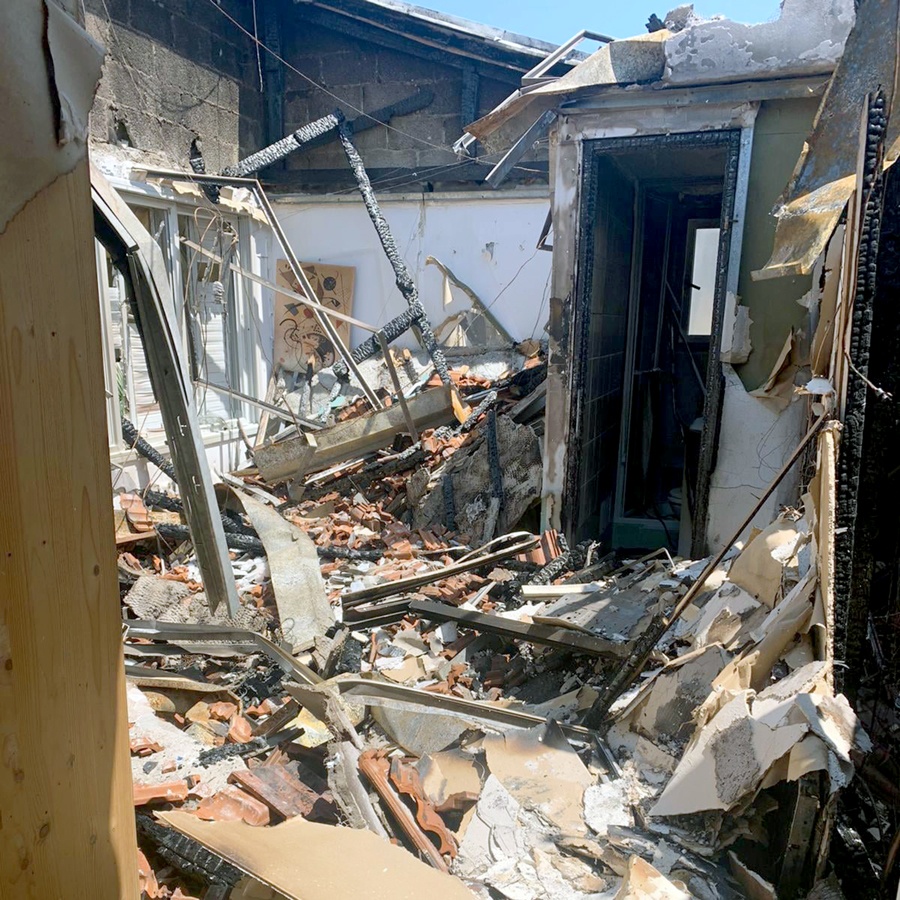 20 May

Offering Aid, Support to Victims of Terror

Offering Aid, Support to Victims of Terror
As rockets caused destruction, injuries and loss of life in Israel, our Fund for Victims of Terror disbursed grants to affected households to support residents of Israel in their time of need.

Last week, The Jewish Agency for Israel's Chief of Sales Strategy, Danyelle Neuman Kaye, met with victims of the constant missile attacks in southern Israel and shared our message of solidarity and support.

Danyelle drove down to Ashdod and Ashkelon to visit with families whose homes were destroyed by missiles. In Ashdod, she met Lucy. Lucy has lived in her home for 30 years and raised her children there. Her grandkids typically spend every Friday afternoon playing in her house.

On Tuesday, May 11, she left the house for a little while as the sirens began. By the time she arrived back home, her beautiful house was ruined. The missile completely destroyed her roof and the second floor of the house, with all of the pieces falling down the staircase into the main floor. Thankfully, all of Lucy's family members were out of the home.

"My home was always my safe spot in the world and now it is gone," said Lucy to Danyelle. "What will I do?"

Danyelle was quick to reassure her. She handed Lucy an envelope and told her that the check inside meant that Jews around the world are thinking of her on the worst day of her life. The check was provided by The Jewish Agency's Fund for the Victims of Terror sponsored by our partners, the Jewish Federations of North America and Support Israel – Keren Hayesod UIA, and donors around the world.

"Thank you so much…thank you for all the support," Lucy said emotionally when she received the check. "It's not taken for granted. The love and support I have received… from the Jewish people… is revealing how beautiful being a Jew truly is."

Danyelle also visited Tova and Refael in Ashdod. On May 11, Tova was home alone cooking dinner when the siren went off again in Ashdod. She barely managed to get to the safe room in the basement when a rocket penetrated the roof, completely destroying the second floor of her home.⠀

Refael, her husband, came home 30 minutes later to find his wife still shaking in fear in their safe room, reluctant to come out. The fridge was full of food and there was a platter of rice on the counter as if the family was about to sit down to dinner… which of course, now they cannot.

When Danyelle handed Refael and Tova a check provided through the Fund for Victims of Terror, Refael cried silently, overwhelmed with emotions.

During this emergency situation in Israel, thousands of families are in the line of fire. The Jewish Agency is committed to financially helping those whose homes have been destroyed so they can rebuild as quickly as possible. So far, we have disbursed grants to more than 170 households through our Fund for Victims of Terror. We will continue to be there for the residents of Israel and assist them as much as we can throughout this crisis.