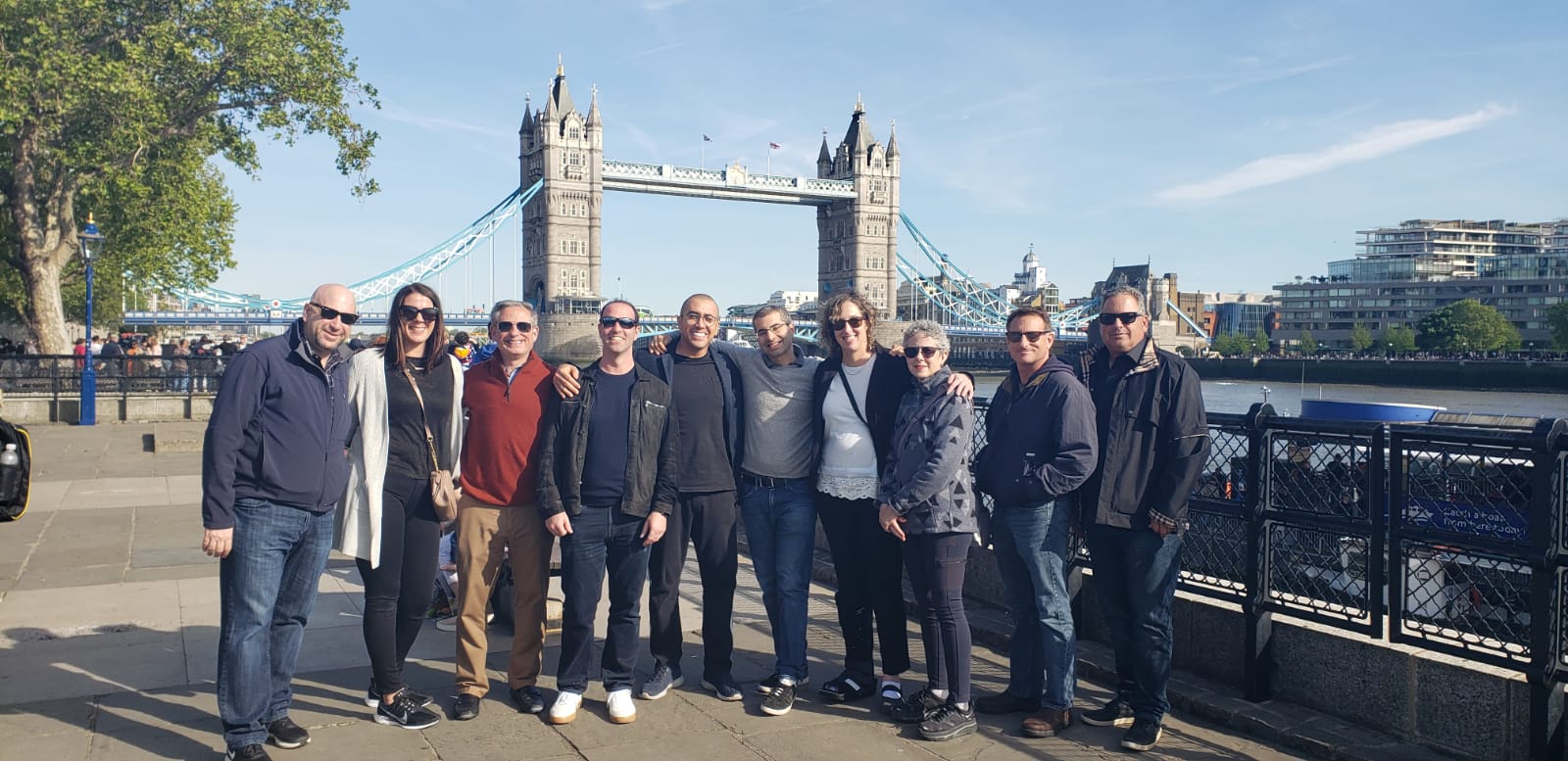 30 May

Taking a Stand for the Jews of Europe

Taking a stand for the Jews of Europe


Just 10 years ago, the mere thought of beleaguered Jews in First-World Western European cornerstone cities would have been preposterous. Yet that is precisely what is unfolding before our eyes in London and Paris. I witnessed the current situation firsthand this past month when I co-led a Jewish Agency for Israel mission to visit and support the Jewish communities in those two cities, which have increasingly suffered anti-Semitism in recent years.

In the decades following the Holocaust, the Jewish communities in Britain and France flourished. For most Jews there, Israel served as a point of pride and a place to support. But most importantly, Israel was a refuge for their embattled brothers and sisters from Arab countries and the former Soviet Union rather than a safe haven for themselves. Our visiting delegation learned that recent events, however, have unfortunately altered this perspective.

We began our mission in London, the scene of a successful but nervous Jewish community. Today, the approximately 300,000 Jews in Britain are generally successful and integrated into British society. But many British Jews we spoke with described a feeling of standing at the edge of an abyss. Anti-Zionist and even anti-Semitic ideas are beginning to permeate parts of the mainstream political system. These forces are no longer marginal; they threaten to take control of the government and highest offices in the U.K.

Studies show that up to 40 percent of British Jews will seriously consider immigrating to Israel if these anti-Semitic politicians ascend to power in Britain. There has already been significant growth in anti-Semitism in the country, especially on college campuses. One of our hosts explained to us that they previously helped their children choose colleges based upon academics, now they select schools based on which college would be safest for Jews.

Despite the shifting political winds, we witnessed a thriving British Jewish community. Approximately 50 percent of Jewish children attend Jewish day schools, a percentage far higher than in the U.S. One school in London – the Jewish Community Secondary School (JCoSS) – is a stunning, light-filled structure surrounded by vast playing fields.

The elephant in the room, however, was evident wherever we ventured – how would Jewish life change if anti-Semites gained power in the government? This question is especially troubling at places like the government-funded JCoSS. Could the changing political forces that accept anti-Semitism as normal alter the British Jewish community in ways that would make it unrecognizable? Would British Jews leave the U.K. en masse?

Fortunately, The Jewish Agency is on the ground in the U.K. creating connections between British Jews and the State of Israel through Israeli emissaries in schools and local communities, not to mention enabling Aliyah to Israel for those who choose to do so.

After several days witnessing the dilemmas faced by British Jews, we ventured to Paris to visit a Jewish community that is, unfortunately, more accustomed to such challenges. Recent years have dramatically changed the quality of life for French Jews. Large influxes of immigrants from the Middle East have brought anti-Israel and anti-Semitic views with them to France. The more radical of these immigrants have terrorized the Jewish community time and again. In 2006, a young Jewish man Ilan Halimi was kidnapped and tortured to death by a group of radical Muslim immigrants. In March 2012, a terrorist opened fire and killed four people at a Jewish school in Toulouse. In January 2015, the Hypercacher kosher supermarket in Paris was attacked and four patrons were killed. In April 2017, Sarah Halimi, a Jewish doctor, was killed. In March 2018, Mireille Knoll, an 85-year-old Holocaust survivor, was murdered in her apartment.

The list goes on and on. It was not surprising that community members urged my colleagues on the Jewish Agency mission to avoid wearing kippot or displaying Jewish symbols on their jewelry or clothing when we were in certain areas.

But the problem goes beyond radical elements within the Muslim immigrant community. Several Jewish community members in France expressed their frustration with French society as a whole. They noted that when terrorist attacks struck the general population, the French people came out to protest en masse, but are generally silent when an attack targets the Jewish community. They explained that they feel abandoned by the French community and, as a result, thousands of French Jews have made Aliyah in recent years — with many more contemplating the same. In fact, more than half of the children we met at French day schools expressed a desire to make Aliyah. Fortunately, as in Britain, The Jewish Agency provides significant support to this Jewish community through Israel education and assisting the thousands of French Jews who immigrate to Israel annually.

Our mission confirmed for me the sad reality of the significant challenges faced by the Jewish communities of France and Britain. Organizations like The Jewish Agency are doing fantastic work enabling these communities to address these threats. But their work requires the support of Jews around the world.

We must not remain silent. It is imperative that Jews in Israel, North America, and worldwide take a stand for their beleaguered brothers and sisters in Western Europe. Even a simple social media post expressing solidarity, or a well-placed phone call or email to the right contact on this issue, can make a tremendous difference. Every voice counts in the quest to ensure that Jewish communities under dire circumstances will be able to live openly as proud Jews, just like we do in Israel and most of North America.

Stu Goodman graduated from Fordham University School of Law in 2004 and returned to his native Philadelphia where he spent years working at Dilworth Paxson LLP and Resource Real Estate, Inc. In August 2013, Stu founded Capstone Law LLC to create a law firm dedicated to providing emerging to middle market companies with a practical legal approach and a personal touch. Beyond practicing law, Stu is an avid distance runner and ancient history buff involved in his local Jewish community. He lives with his wife, two children, and dog in Philadelphia.