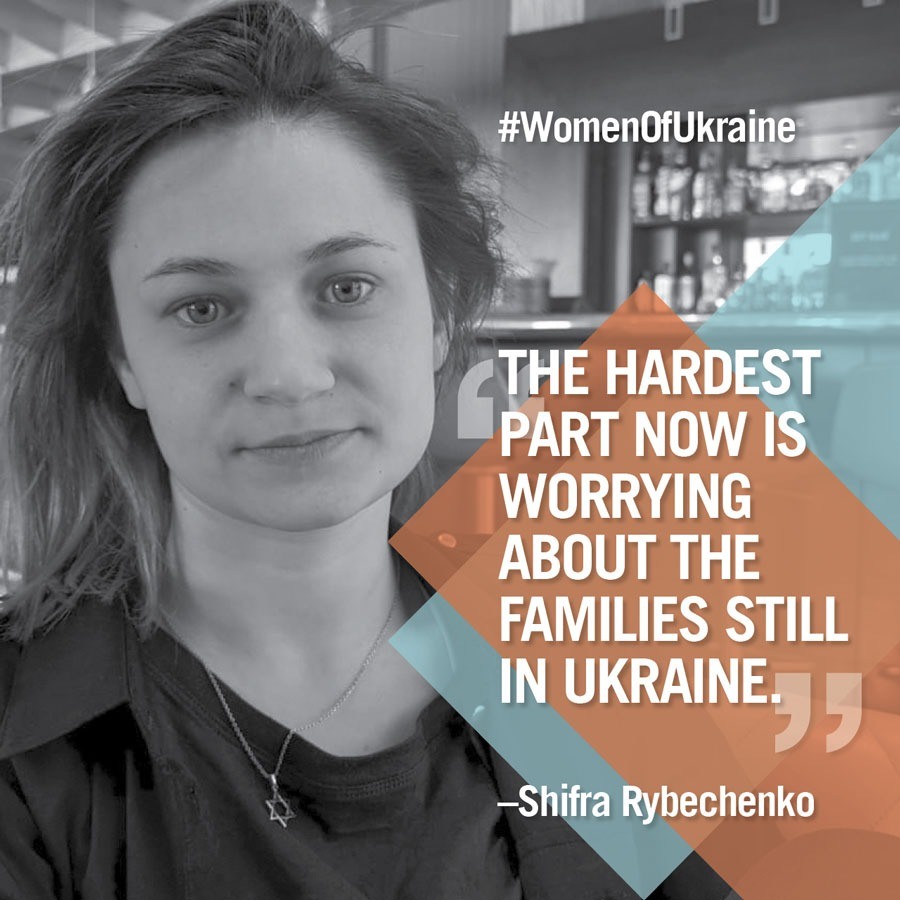 07 Mar

Ukraine International Women's Day
#WomenOfUkraine
As the war between Russia and Ukraine continues, and in honor of International Women's Day, we bring you the incredible stories of four women directly impacted by the ongoing conflict.
Click on the names below or scroll down to get to know these amazing women and read their powerful stories.
Shifra Rybechenko
Shifra, 24, is a psychologist who lived in Kyiv. She had already booked plane tickets to Israel to make Aliyah on February 27 when her country was invaded by Russia. Shifra's brother got them all seats on a bus to Lviv but chose to stay behind with his wife and her parents and enlist in the Ukraine combat support force. Shifra's dad also chose to stay behind and volunteer for the military, so only Shifra and her mother and sister made their way to Lviv. After arriving in Lviv, they tried to board a train west but found out there was no train, so they hired a driver. When the driver got onto the main road and saw the traffic, he estimated the journey would last four days and was not willing to drive the women, so they had to get out of the car.
"The distance to our destination was 26 kilometers, and we had no choice but to start walking. In the meantime, my sister-in-law, her mother and grandmother also joined us. After six miles, my sister-in-law's grandmother, my mother and my little sister were able to get a ride from a vehicle that offered assistance and the rest of us continued on foot for the next 20 kilometers. It took 4 hours, and we all reconvened at the Poland border. We met up with The Jewish Agency in Warsaw and we will immigrate to Israel in the coming days. The hardest part now is worrying about the families still in Ukraine, but the Ukrainians are a strong people and I believe the war will be over soon."
Shifra Rybechenko, Ukraine Women day
Roza Ziatek-Czarnota
Roza is a representative of The Jewish Agency in Poland. On a daily basis, she helped Polish Jews make Aliyah, but since Russia's invasion of Ukraine, she was sent to help with the wave of Jewish refugees who fled to Poland. Over the last several days, she's been meeting with and assisting refugees at a hotel near the Warsaw airport, taking care of dozens of them, with hundreds more expected in the coming days.
"The care we give these immigrants includes lodging here at the hotel, providing clothing and belongings in place of what they were forced to leave behind, psychotherapy, documents and visas from the consulate, and assistance with the Aliyah process. I speak Polish but not Russian or Ukrainian, so with most refugees I talk English, and I try to recruit volunteers to help me translate. Working for The Jewish Agency here in Poland, I know the next few days will be intense; I'm ready."
Roza Ziatek-Czarnota, Ukraine Women day
Natalia Forys
Natalia lived in Kyiv with her husband, Andrei, and two children. On the morning the war broke out, the family started hearing bombing at 5 a.m. Natalia had the kids get dressed and gathered the family's important documents while Andrei went to refuel their car; there were already 15 vehicles in line for gas in front of him. They drove 20 hours straight from Kyiv to Lviv, sleeping in the car and swapping who was driving every few hours, but did not know where they should continue to from Lviv until The Jewish Agency got in touch with them and told them to get to Warsaw. Even before the war, the family had registered with the agency to make Aliyah after the children finished school in a few months, but with the war breaking out, they advanced their plans, figuring it's better to be in Israel.
"I am very worried for my parents and brother who are still in the Kyiv region. I talk to them every day and luckily, they are fine for now. My brother is not willing to flee and insists on staying there. Even my father is not ready to leave Kyiv, even though he is afraid. I really want them to come and be with us so that I can support them and help. I do not care that we have nothing here, no clothes and no belongings. All I want is for my entire family to be safe and together in Israel."
Olga Stadinova
Olga, 42, is from Kiev, and mother of two sons, ages 9 and 13. When the war broke out, they got a ride to relatives in the town of Kamianets-Podilskyi in Ukraine. They stayed there one day, and then discovered it was possible to cross the border and reach Israel through The Jewish Agency. Olga's husband, who retired from the military 15 years ago and runs a logistics business, chose to remain in Ukraine and return to the army, feeling he has a duty to defend the country.
"My husband stayed to fight but he promised everything would be ok; still, it was very hard for us to say goodbye to him. I'm in touch with him and he's not in dangerous places yet, but he's on his way there with other men who got their families to safety so that they can fight for the freedom of our country. In the meantime, my sons and I got our visas to go to Israel so we will immigrate shortly and wait with relatives already living in Israel for Sasha to join us there as soon as the war is over."
Olga Stadinova, Ukraine Women day