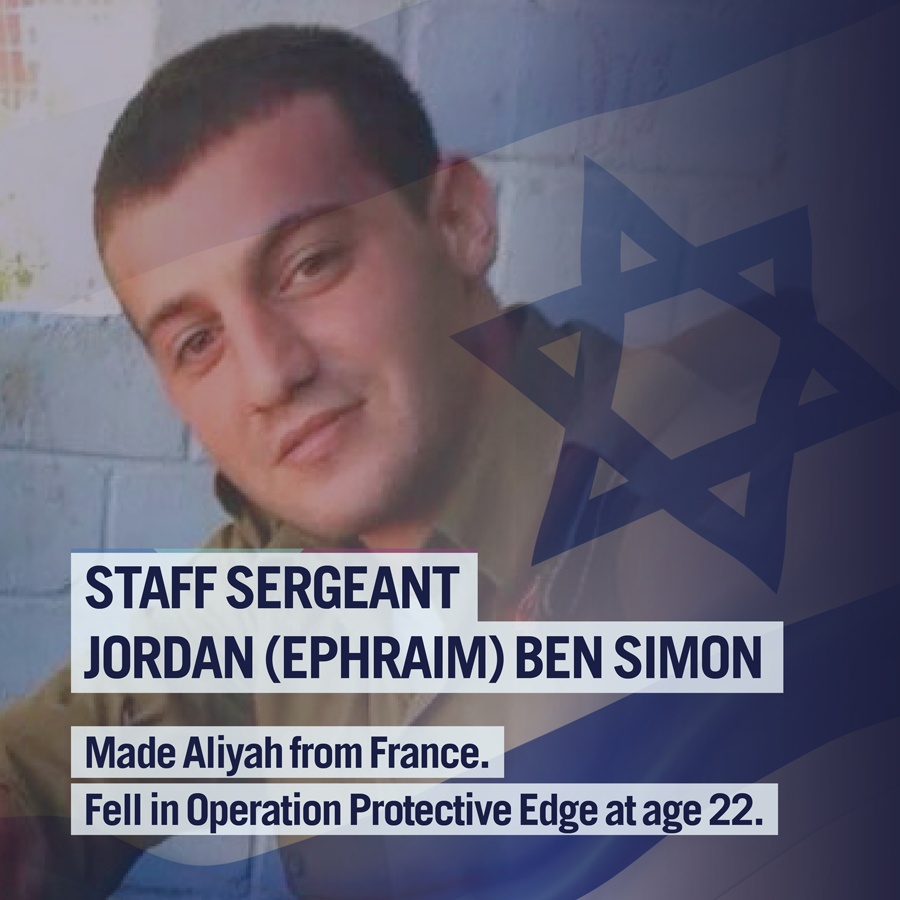 29 Apr

Yom Hazikaron Ceremony
Thank you for joining The Jewish Agency for Israel and Masa Israel Journey for the largest virtual Yom HaZikaron Memorial Ceremony for the Jewish world on Tuesday, May 3, at 12:50 p.m. EDT
Thank you for tuning in to the live-streamed ceremony (in English) to participate in a meaningful commemoration from a personal, communal and national perspective. This year, the ceremony's theme is "These Are Our Stories" and will focus on the personal stories of the fallen Israel Defense Forces soldiers (including lone soldiers) and victims of terror, and their legacy and impact they so abruptly left behind.
Commemorating Fallen Lone Soldiers
We want to commemorate the memory of the lone soldiers who immigrated to Israel on their own, to build, be built, and live their lives in the country and fell in Israeli battles.
May the memory of all those who fell in battles on Israel's behalf and in acts of hostility be blessed.
Information about the fallen was obtained from the "Yizkor" website and other sources.
Staff Sergeant Jordan (Ephraim) Ben Simon – Fell in Operation Protective Edge at age 22.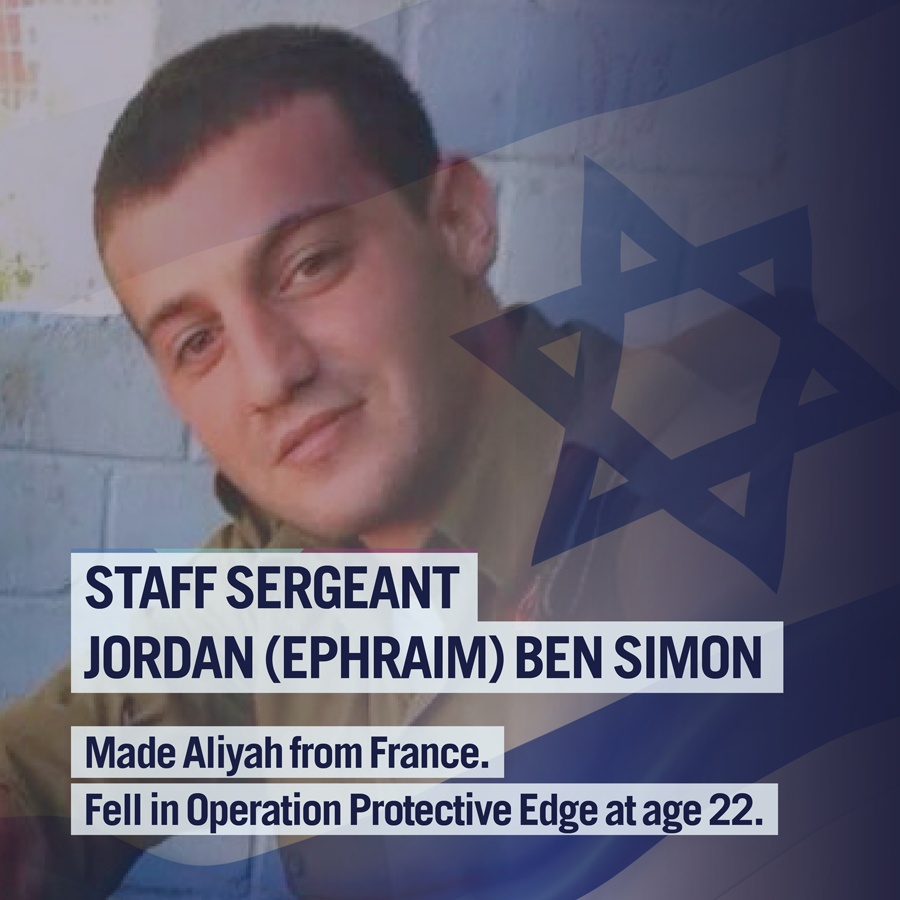 On a hot day in July 2014, amid the constant fire of Hamas rockets, 5,000 people gathered in the Ashkelon military cemetery for the funeral of Staff Sergeant Jordan Ben-Simon. Most of them did not know him, or had even heard his name before he was killed, but the story of the lone soldier who immigrated to Israel by himself and fell in battle touched their hearts. Jordan immigrated to Israel in 2008, when he was 16, from Lyon, France, as part of the Na'ale program, where high school students immigrate to Israel alone, before their parents), and studied at the Ben Shemen Youth Village. In 2012, he enlisted and served as a soldier in the Walnut Brigade's Walnut Unit. He was 22 when he was killed. Engraved by his family on his gravestone in the military cemetery in Ashkelon is "We all love you, Jojo." May his memory be blessed.
Sergeant Julie (Sarah) Weiner – Killed at age 21 in a terrorist attack at Azor Junction.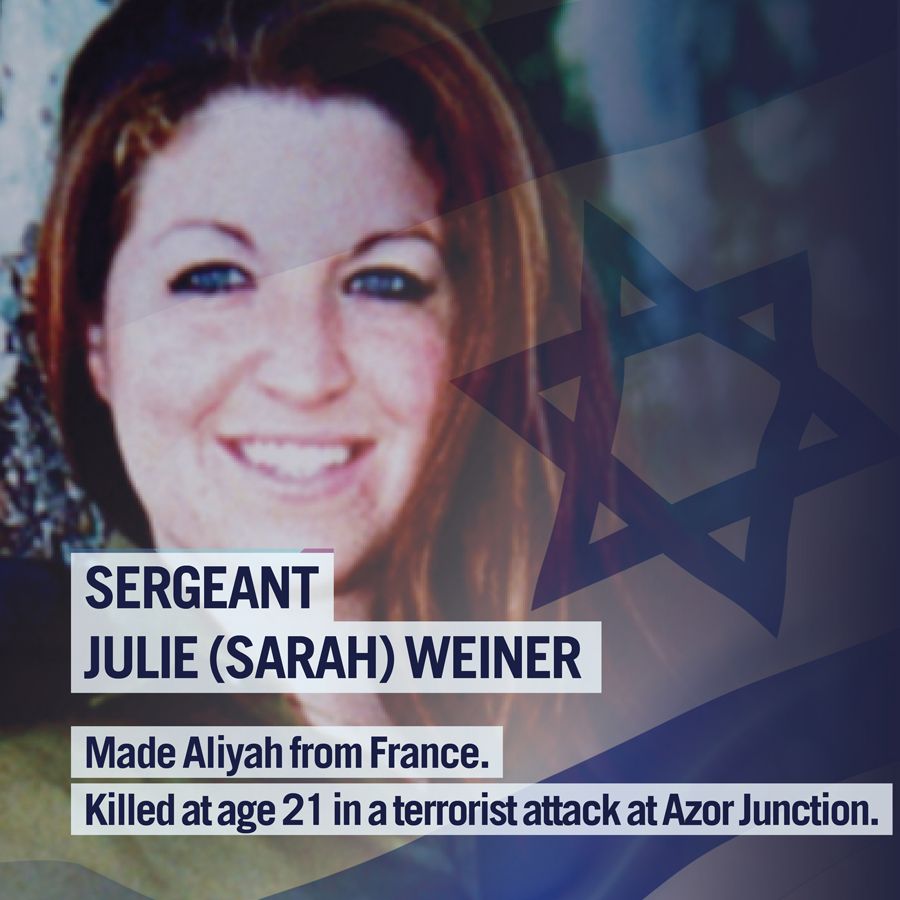 Julie Weiner regularly went to the theater and cinema, danced folk dances and was full of joy for life. Julie, who was born in Jerusalem, moved with her family at the age of nine to Nantes, France. After high school, she decided to return to Israel alone and enlist in the Israel Defense Forces (IDF) before university. In April 2000, Julie enlisted in the IDF though at first, the military did not want her to enlist, claiming she was too old and did not speak Hebrew, but Julie insisted and succeeded. She served as an Air Force sergeant major for nine months, and was remembered by peers as having "a perpetually good mood." Julie planned to take care of lone soldiers, something she was personally familiar with, as soon as she finished the officers' course.
On February 14, 2001, on her way to start the officers' course, Julie was killed in a terrorist attack at an area junction when a Palestinian drove a bus into a group of Israeli soldiers waiting at a bus stop, killing seven soldiers, including Julie, and one civilian. Julie was laid to rest in the Mount Herzl Military Cemetery in Jerusalem, leaving behind her parents, and a sister and brother. The Mayor of Jerusalem, Chairman of The Jewish Agency, Air Force commanders, a representative of the French Embassy, ​​friends and many people who were very moved by her life story attended her funeral. Chief of Staff Lt. Gen. Shaul Mofaz wrote to the family: "Julie demonstrated great motivation and endless initiative. Her determination to succeed in everything she did and her captivating smile, made her beloved among the soldiers and commanders of the unit. An abomination of iniquity has taken her away from us, but the memory of her will be etched in our hearts forever." May her memory be blessed.
Sergeant Max Donald Steinberg – Fell at age 24 in Operation Protective Edge.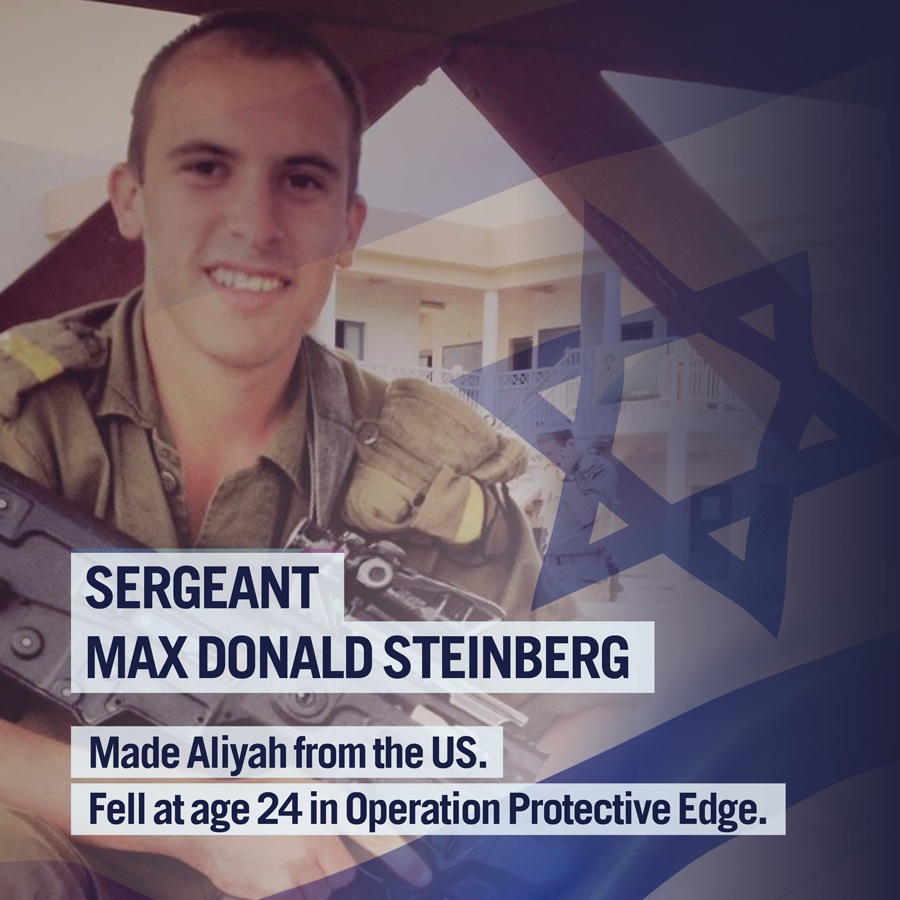 The first time Max Steinberg visited Israel was at the age of 23 on a Taglit Birthright trip, which he went on with his two younger siblings, Paige and Jake. The short he spent there, and especially the visit to the tomb of the lone soldier Michael Levin on Mount Herzl, led him only six months later to make the decision to immigrate to Israel from Los Angeles and enlist in the IDF as a lone soldier. Thus, in December 2012, after fighting to enlist in the army, Max began serving as a soldier in the Golani 13 brigade.
In July 2014, Max was wounded but insisted on returning to the battlefield and fighting alongside his comrades. On July 20, 2014, at age 24, Max fell in a bloody battle in Shuja'iyeh. 30,000 people came to the military cemetery on Mount Herzl to attend the funeral of the lone soldier, whose love story with Israel was so deep and so short. May his memory be blessed.
First Sergeant Jonathan Sergey Fox-Velisuke – Fell in the Second Lebanon War at age 21.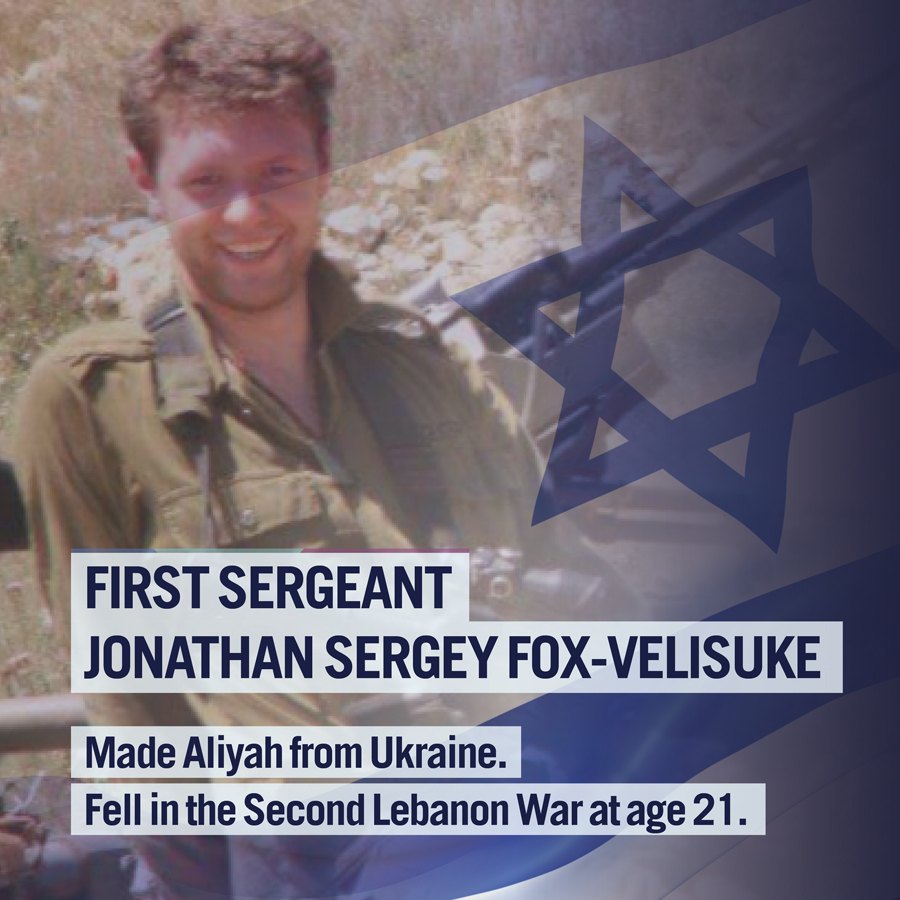 In 2000, Jonathan immigrated alone from Ukraine through the Na'ale program. He lived in Kibbutz Lahav, where he was adopted by the Gal family. He began his military service in the General Staff Reconnaissance Regiment, before moving to the elite Egoz Reconnaissance Regiment.
When the Second Lebanon War broke out, his company was in operational activity in Jenin, but they were called up to Lebanon. It was there, on July 20, 2006, that Jonathan, 21, fell. Jonathan had just evacuated the body of his commander, the late Major Benji Hillman, who also fell in the Battle of Maroun al-Ras, at the beginning of the Second Lebanon War. Jonathan had already arrived outside the area of ​​fire, but decided to return to the battlefield to help evacuate the wounded and collect the weapons left behind; he was hit by a Hezbollah missile and killed on the spot. For the heroism and courage he displayed, he was awarded the division commander's medal. He was buried in the military section of the cemetery in Kibbutz Lahav, which he loved so much. May his memory be blessed.
Private Nathaniel Petrushka – Fell at age 24 in the battle for Gush Etzion during the War of Independence.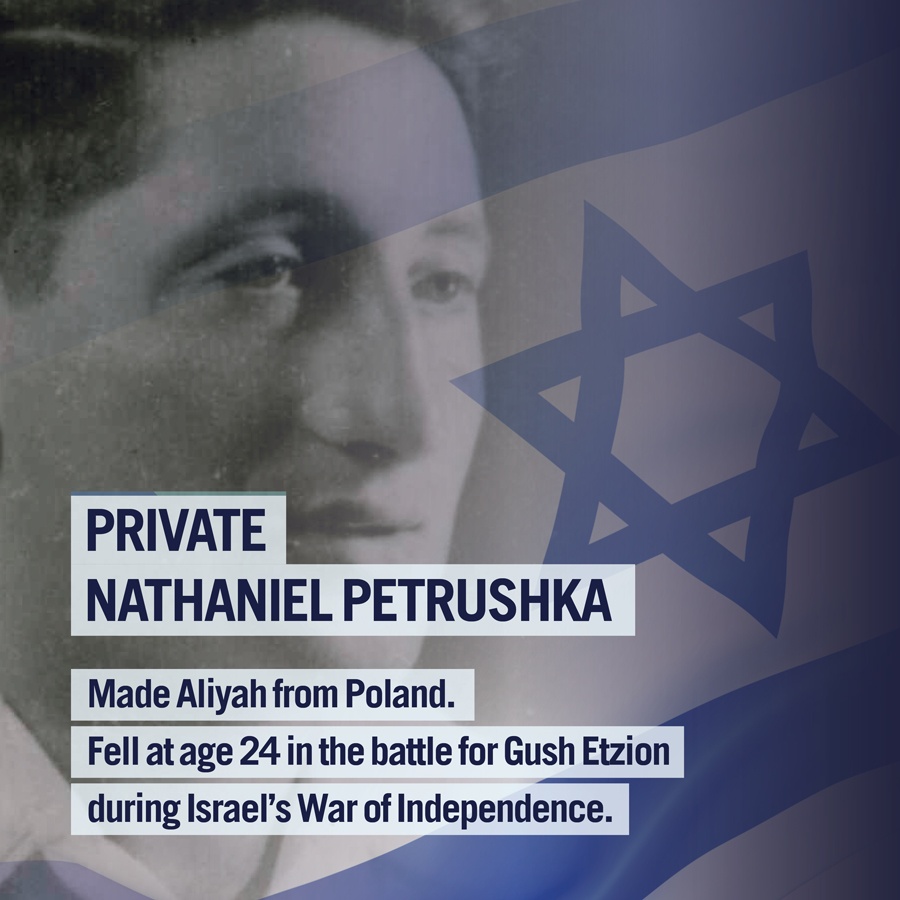 Nathaniel, a native of Poland, was 16 when World War II broke out. His family was transferred to the ghetto near the town of Opatow, and in March 1941 the father of the family, Aryeh Leib, was murdered by a Nazi soldier. Shortly afterward, Nathaniel was taken to a labor camp but escaped to take care of his mother who was left behind. He was captured and returned to the camp from which he fled. During his absence, his brother died in the same camp and it was mistakenly registered in the office that Nathaniel died, and thus he was accepted into the camp not as a fugitive who was returned – sentenced to death – but as a new detainee. Transferred from camp to camp, Nathaniel bravely endured the hardships and tortures until in May 1945 he was liberated in the Czech Republic by the Russian army.
His decision to immigrate to Israel was delayed because he wanted to return to Poland, with little hope of finding the remainder of his family, but when it became clear that no one was left, he immigrated to Israel in August 1946 on the illegal immigrant ship "23 Yordei Hasir" sailing from the port of Boca de Migra in Italy along with 750+ immigrants. British sailors took over the ship and towed it into Haifa Port where those on board were taken to deportation camps in Cyprus. After several months, Nathaniel was allowed to immigrate to Israel, but once there he was arrested and sent to the Atlit detention camp. After his release, he arrived in Kfar Etzion, the first of the Gush Etzion settlements, which were under Arab siege.
During the months of protection of the bloc, Nathaniel worked in guarding, defending and fortifying work. In one of the battles, on May 4, 1948, Nathaniel served on the only machine gun crew, standing firm throughout the battle, firing against the enemy relentlessly. On May 12, 1948, the Arab Legion soldiers attacked with great force and managed to approach and position themselves near Kfar Etzion. The next day, May 13, 1948, an armored Jordanian force attacked the village with heavy shelling. Many Arabs from the surrounding villages joined the attack, occupying the settlement and destroying it completely. About 100 of the village warriors fell on this day, and Nathaniel was among them. Some were murdered after their surrender. A day later, on the day David Ben-Gurion declared the establishment of the state of Israel, the other three settlements of Gush Etzion fell. The bloc ceased to exist, and the remains of its defenders were captured by the Jordanians.
Nathaniel was 24 at the time of his fall. The bodies of the martyrs remained in Jordanian territory and their remains were collected in a special operation by the military rabbinate in 1949, about a year after the end of the battle. They were laid to rest in a large mass grave on Mount Herzl in Jerusalem. May his memory be blessed.