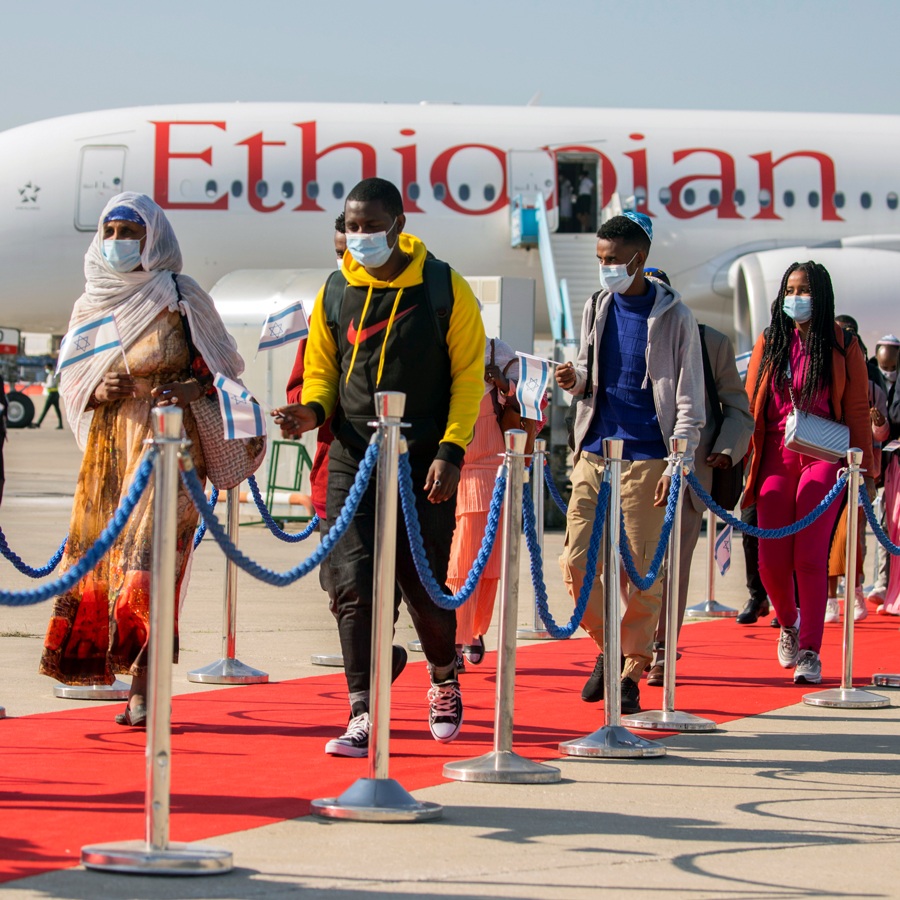 03 Dec

316 Ethiopians Land in Israel

December 3, 2020 | Jerusalem

316 Ethiopians Land in Israel; 100 More to Arrive Tomorrow
The flight, coordinated by The Jewish Agency for Israel, the Ministry of Aliyah and Integration and the Ministry of Interior, landed this morning at Ben Gurion Airport as part one of "Operation Zur Israel, Ethiopian family reunification after more than a decade of separation."

On Thursday morning, December 3, 2020, 316 olim (immigrants) arrived in Israel from Ethiopia, with another 100 landing tomorrow, as part one of "Operation Zur Israel."

"Operation Zur Israel" follows the Government of Israel's decision in October of this year to approve the Aliyah (immigration) of 2,000 members of the Ethiopian community, many of whom have been waiting for decades to move to Israel and reunite with their families.

"I was on a week-long mission in an attempt to bridge the decades-long gap for thousands of Ethiopian Jews who were left behind after Operation Solomon and the government decisions that followed," said Minister of Aliyah and Integration Pnina Tamano-Shata. "They are waiting to not only fulfill their dream of Israel and Jerusalem but to meet their basic request of reuniting with their families here in Israel…Their lives are literally on hold!"

"I'm optimistic! I believe in us as a society and believe that we will do everything possible to quickly resolve this painful and personal issue that has been going on for too many years," the Minister continued. "I consider Operation Zur Israel one of the greatest deeds and one of the best decisions made by the unity government. A moment that transcends the controversies and debates, a moment of saving lives and most importantly, a moment of national duty that reminds us who we are as a people and that we are privileged to return home after thousands of years of exile. Am Yisrael Chai!"

"It's incredibly moving to watch the landing of this flight full of new olim from Ethiopia, the first part of Operation Zur Israel. We will continue this airlift of 2,000 olim who will reunite with their families in Israel after many years of separation. For years, families both in Ethiopia and Israel have been pleading and praying to rejoin their loved ones," said Chairman of The Jewish Agency Isaac Herzog. "It was wonderful to see Minister of Aliyah and Integration Pnina Tamano Shata land with the olim on this first flight, an emotional chapter in her own personal story. The Jewish Agency, together with the Ministry of Aliyah and Integration and the Ministry of Interior, have been working for weeks – both in Israel and on the ground in Ethiopia – to make this moment possible following the Government of Israel's decision this past October, and we are now seeing it unfold before our eyes."

"I do not remember being so moved, for many years, by such a purely Zionist sight that expresses all that we stand for. My wife Sara and I stood with tears in our eyes at the reception, watching the olim, our Ethiopian Jewish brothers and sisters getting off the plane… A mother kissed the ground as she exited the plane, carrying a baby named Jerusalem and another baby named Esther. Esther and Jerusalem have now come to Israel – and this is the essence of the Jewish story, this is the essence of the Zionist story," Prime Minister Benjamin Netanyahu said. "We are so moved to welcome you here. Welcome to the State of Israel… Now comes this wonderful family reunion. You have been waiting a long time for the dream to come true, and today it is coming true," Prime Minister Netanyahu added.

"We are continuing the Zionist vision in its purest sense – ingathering of the exiles. You, who are standing at the gates of this country, carry a wonderful tradition spanning thousands of years, and it is the obligation of the State of Israel to ensure your integration into Israeli society and give you every opportunity to start your new lives here. Despite the pandemic, it's incredibly important that you arrived now and that we learn the lessons from past Aliyah integrations," said Israel's Minister of Defense Benny Gantz to the new olim.

This morning's landing at Ben Gurion Airport is the first stage of bringing the remainder of those waiting in Ethiopia to Israel. The Ministry of Aliyah and Integration and The Jewish Agency will continue to support the community in Ethiopia, including medical care and a daily nutrition program for children, pregnant women and nursing mothers.

Following the required quarantine of all new arrivals, the olim will reunite with their families in Israel. The Ministry of Aliyah and Integration and The Jewish Agency will help settle the olim in absorption centers throughout the country, where they will receive support and guidance in all areas of life, from learning Hebrew to entering the workforce and the Israeli education system.

Since the establishment of the State, the Government of Israel has brought 3.3 million new olim to Israel with the assistance of The Jewish Agency, including 95,000 immigrants from Ethiopia. In the mid-1980s, 8,000 immigrants arrived with Operation Moses through Sudan. In Operation Solomon, conducted in 1991, an airlift brought 14,000 immigrants to Israel. In the summer of 2013, The Jewish Agency concluded Operation Doves' Wings, which brought an additional 7,000 immigrants from Ethiopia to Israel.

The Jewish Agency is able to carry out the important work of bringing Ethiopian olim to Israel and reuniting them with their families with the support of its partners, the Jewish Federations of North America (JFNA) and Keren Hayesod, and with generous support from The Christian Embassy, the Crown Family Foundation, The International Fellowship of Christians and Jews, Jewish donors and foundations, and friends of Israel from around the world.
Watch the unforgettable moment 316 Ethiopians arrived in Israel: