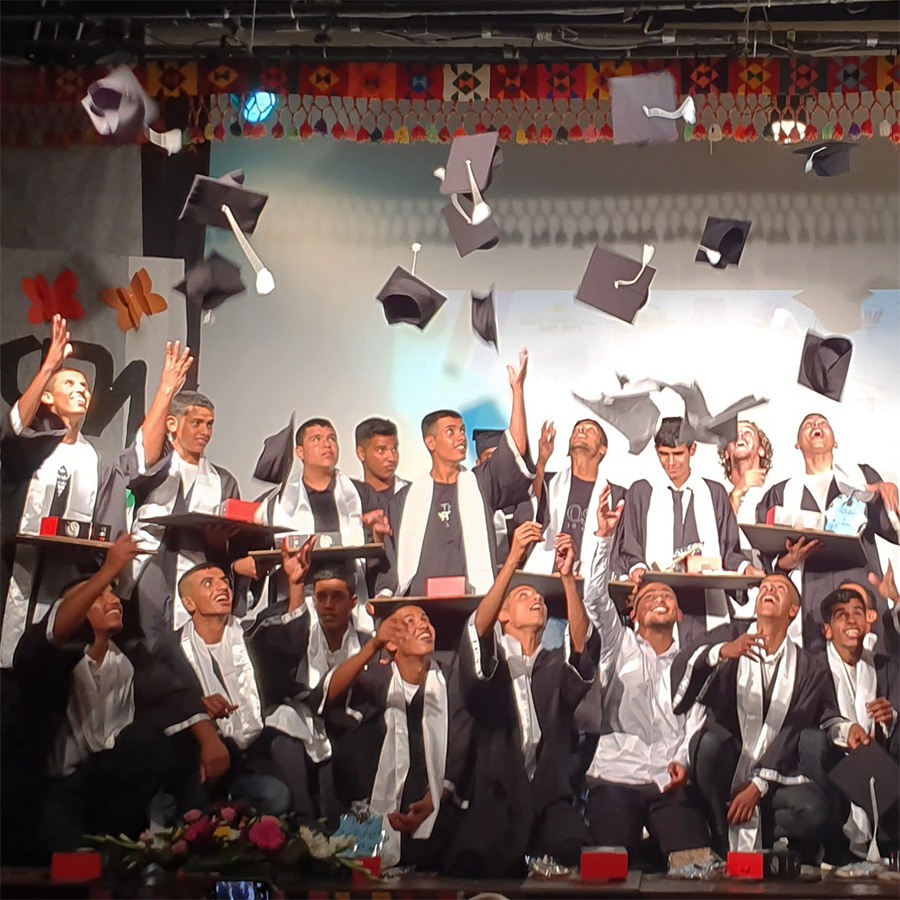 09 Jul

A Milestone Graduation

A Milestone Graduation Celebration


In June 2019, 22 students celebrated an impressive personal and historic milestone at Neve Midbar-Nitzana, The Jewish Agency's Youth Village and boarding school catering to Bedouin high schoolers: graduation. These students made up the first-ever graduating class from the Bedouin youth village school.

Throughout Israel, The Jewish Agency has founded several Youth Villages with distinct programs to help young people coming from underserved communities or coping with severe emotional, behavioral, and familial challenges. The Youth Villages are crucial facilities that provide much-needed education, intervention and healing in a positive environment.

Over the course of the past four years, students at Neve Midbar-Nitzana received specialized attention from 50 dedicated instructors and staff members and enjoyed a diverse educational curriculum.

"The youth village gave me life tools so it will be easier for me in the future,'' said Majed Daraja, a graduate from the town of Bir Hadaj. "It's important to me that my family is proud of me."

Students at the youth village studied core academic subjects, agriculture, and ecology. The school's educational environment respects Bedouin culture, builds leadership, and cultivates the values of the State of Israel: democracy, equality, civics, and social activism. And now, these students are prepared to enter Israeli society, pursue employment and make an impact on the Bedouin community.

"The Neve Midbar-Nitzana youth village is creating the next generation of Bedouin leadership in Israel," said Jewish Agency Chairman Isaac Herzog. "The curricula at Nitzana enables students to get to know all sectors of Israeli society, empower their communities through the tools they acquire at the village, and integrate into Israel's diverse mosaic."
The youth village gave me life tools so it will be easier for me in the future. It's important to me that my family is proud of me.
Currently, Neve Midbar-Nitzana serves 100 children from homes in Bedouin towns and unrecognized Bedouin villages. Although much of their instruction is conducted in Arabic, Neve Midbar students also master Hebrew as one of their primary points of entry into Israeli society.
"The next generation of the Bedouin community deserves an environment that is inclusive and supportive — one that propels individuals. With financial support from the Jewish Diaspora, the Jewish Agency has made strengthening all demographic groups in Israel one of its flagship goals,'' said Herzog.
"We've made history. At Nitzana, we established the first youth village for students from the Bedouin community," said Ilana Nolman, the Ministry of Education's head administrator for boarding schools and youth villages. "We fully believe in the proverb, 'it takes a village to raise a child.'' Indeed, this youth village, a community in its own right, constitutes a natural and systematic environment to cultivate ground-breaking leadership. We believe that it's a national mission to help the Bedouin community cultivate a generation that will spark a seminal change that benefits Bedouin citizens as well as the entire country."