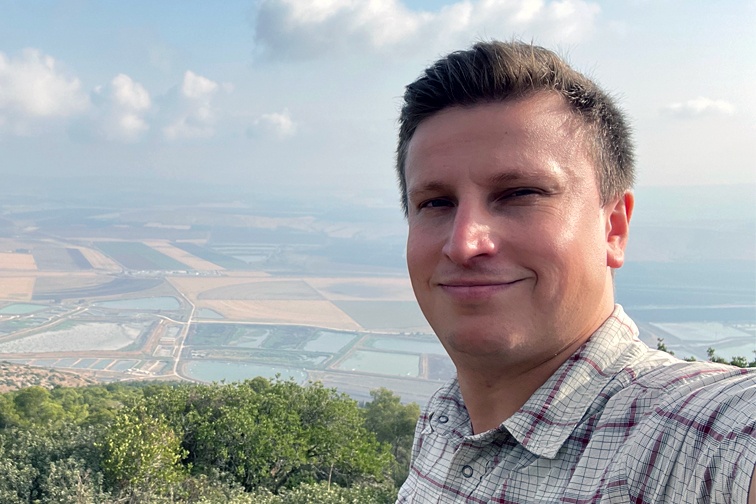 07 Nov

Developing Hebrew Skills and Connections at Ulpan
Developing Hebrew Skills and Connections at Ulpan
Thanks to his time at Ulpan Etzion-Haifa, Maxim, an immigrant from Russia who made Aliyah in May 2022, is feeling "incredibly optimistic" about his future in Israel.
Developing Hebrew Skills and Connections at Ulpan
Thanks to his time at Ulpan Etzion-Haifa, Maxim, an immigrant from Russia who made Aliyah in May 2022, is feeling "incredibly optimistic" about his future in Israel.
Maxim, 33, was born in Severodvinsk, a city in the north of Russia on the White Sea in the Arkhangelsk region, but moved to Moscow at age nine. He made Aliyah in May 2022 and enrolled at Ulpan Etzion in Haifa.
The Jewish Agency's Ulpan Etzion program is Israel's flagship intensive Hebrew learning program designed specifically for young immigrants who hold college degrees. The five-month-long experience provides a solid academic Hebrew foundation for those who wish to develop their language skills in Israel and also gives young adults the opportunity to meet other Jews from around the world who are newcomers to Israel as well.
"Ulpan Etzion offers housing and full support to olim (immigrants), helping us deal with everything from daily challenges to getting our documents in order, all with the opportunity to meet new friends in our new country and participate in a critical Hebrew learning program to help us integrate into Israeli society," said Maxim. "During my time at Ulpan, I leveled up my Hebrew skills tremendously and developed great relationships."
Before arriving in Israel, Maxim had started learning Hebrew in an online Ulpan in Moscow, but since he had only been in it for a month, his grasp of the language mostly consisted of the Aleph Bet (the Hebrew alphabet). But since he's been in Ulpan Etzion, he's learned a lot both in and out of the classroom.
"I've learned more about Jewish culture which is very important for successfully integrating into Israeli society. And trips to Kibbutzim and other activities organized by Ulpan were very interesting and helpful for a better understanding of Israel's history, customs and mentality," shared Maxim.
Additionally, an excursion to the Mashmaut Center, an educational Holocaust and heritage institute in Kiryat Motzkin, was very meaningful to Maxim.
"After learning more about the Holocaust at Mashmaut, my roommates and I decided to visit Yad Vashem in Jerusalem," Maxim said. "It was a very emotional visit and unexpectedly motivated me to start tracing my own family tree."
In Russia, Maxim completed his Bachelor's degree in Economics at the Higher School of Economics and a Master of Science in Physics at Lomonosov Moscow State University. He worked in finance for over a decade, with experience in banking, corporate financing, project financing and international deals. Now that he's finished Ulpan, Maxim plans to extend his Hebrew learning at Ariel University, as well as pursue an MBA degree.
"I know the first year is going to be very hard as the second year will be completely in Hebrew," admitted Maxim. "So, in the first year, I'll concentrate on education, and in the second year, I hope to start a part-time job in the banking or finance department of an international company."
Despite the challenges of transitioning to life in Israel, Maxim is confident he made the right decision in making Aliyah.
"I'm very, very happy to be here and grateful to the Ulpan staff and teachers, and The Jewish Agency for their support," Maxim shared. "I feel incredibly optimistic about my future in Israel."