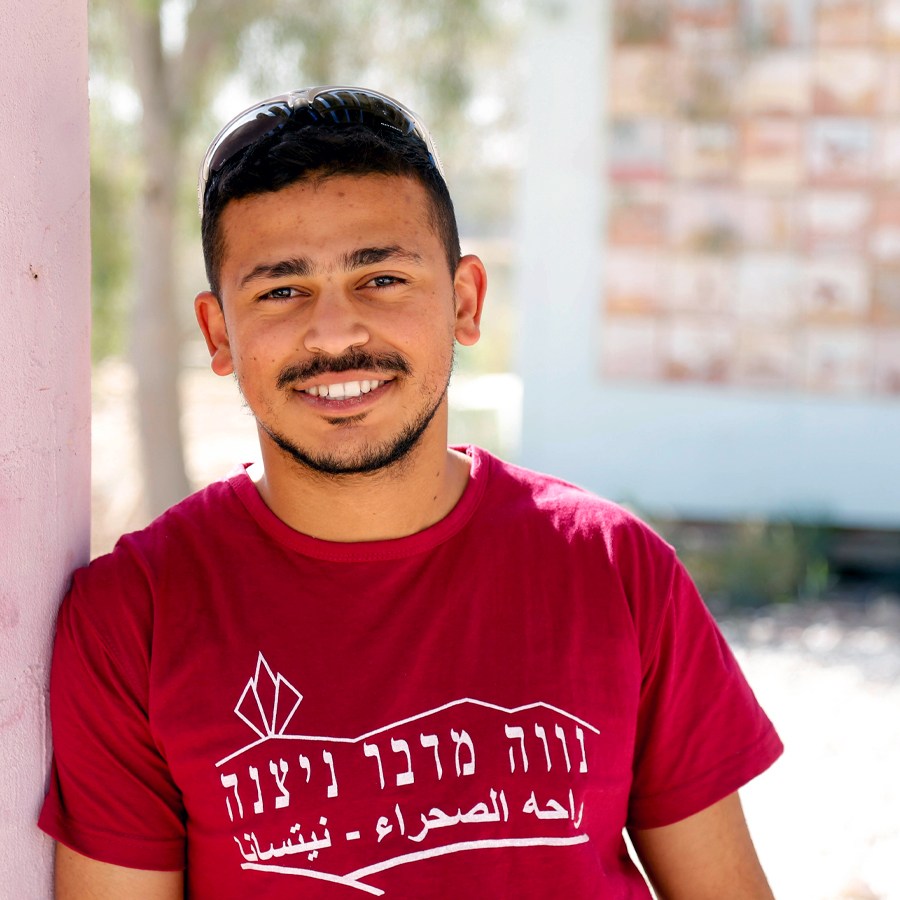 14 Feb

Empowering young Bedouin

Empowering young Bedouin.
Youth Villages help strengthen their connection to Israeli society.

Nitzana is a cutting-edge youth village and desert community that houses many activism projects. Through The Jewish Agency for Israel, young people of all backgrounds come together there for educational experiences that emphasize tolerance and mutual understanding. It teaches the youth to respect themselves, each other, and the natural world.
I am here as a group educator in Nitzana, and this role gives me all the options and tools to choose a better life.
Situated in the western Negev, Nitzana boasts a "solar park" with scientific installations that are used to educate thousands of schoolchildren and teens each year about renewable energy. The youth receive an experiential education on ecology and resources of the Negev. In 2017, Nitzana served more than 17,000 participants in its various programs. This included nearly 200 young Masa participants, the Neve Midbar youth village for Bedouin boys, and Israeli service-year volunteers.
One of Nitzana's Bedouin residents, Tamer Abu Jafar, recently received the Israeli President's Award for Volunteering—commemorating his work to save lives in the Negev Desert. Tamer was born in Rahat, and he estimates that his family has been living in the Negev for 200 years. At Nitzana, he oversees the village's 11th graders, and has been a key contributor to Desert Stars- a Bedouin leadership development program.
"I am here as a group educator in Nitzana, and this role gives me all the options and tools to choose a better life," says Tamer. "My vision is to help build a generation that creates and doesn't just consume; a generation that benefits society and does not burden society."
Nitzana has a secondary school, an agricultural farm, and a youth village. The village empowers its participants and strengthens their sense of belonging to Israeli society. Its staff includes both Jewish and Arab educators.
"Every chapter in a person's life has a dream that accompanies it," Tamer says. His current dream is making Bedouin society more socially and economically active in Israel. Jamal Majadele, a teacher in Nitzana, was in search of a place to contribute. "The Jewish Agency and Nitzana changed the ways of thinking about disadvantaged populations and Arab society, so I could connect with them."
"The Bedouin towns have no facilities for informal studies, and most of the time Bedouin youths wander and spend their time in a way that is inefficient and unwise," Jamal continues. "Then they come to Nitzana and find a framework that embraces them, directs them, and gives them a plan. The studies develop responsible young adults who can lead. They will be agents of change in their society, and this is necessitated by the reality of their life."
He adds, "The moment you help create a resident, a citizen, no matter who he is... he feels a sense of belonging and loyalty, and feels committed to his environment." It is through this process that we acquired the tools and insights to better our society.