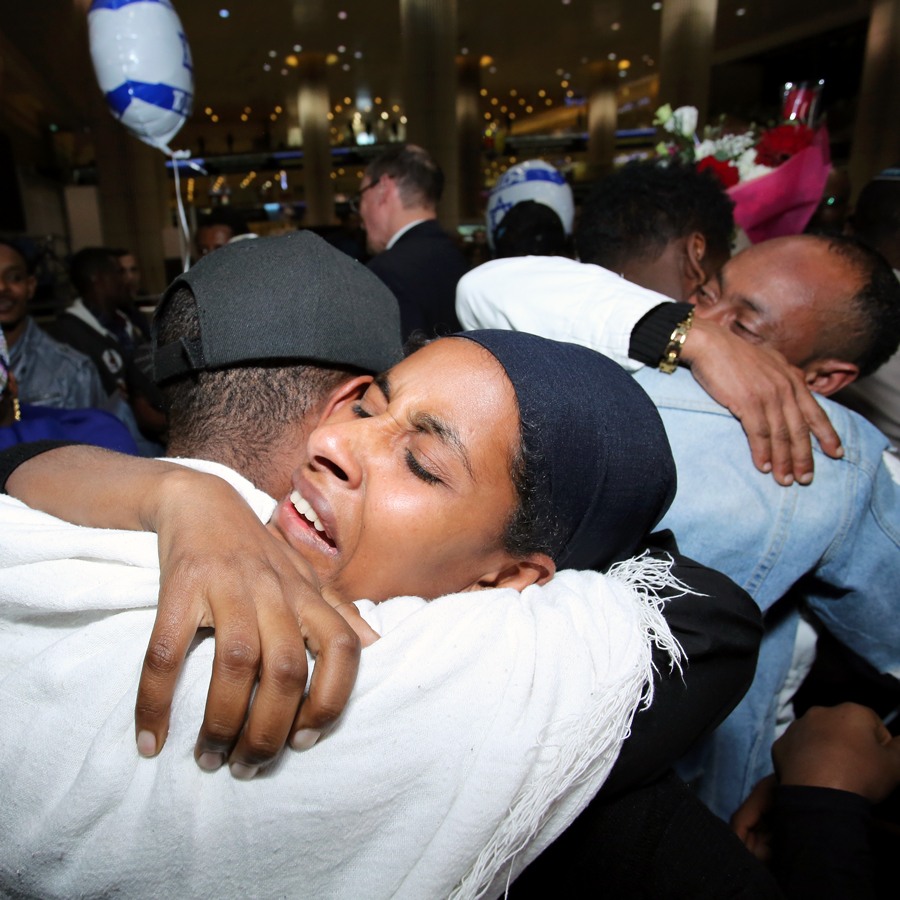 02 Dec

Ethiopian Aliyah, Explained

The History of Ethiopian Aliyah, Explained
Since the early 1950s, The Jewish Agency has assisted more than 95,000 Ethiopians with their immigration to Israel.

But our job is not done; there are still thousands in Ethiopia waiting to come to the Jewish State and be reunited with family members who've already been able to make Aliyah. 2,000 Ethiopians waiting in Addis Ababa and Gondar will be brought to Israel through Operation Zur Israel, which kicked off in December 2020.

The primary focus of the Aliyah of these Ethiopians is family reunification in Israel.
An Aliyah commitment rooted in history
Prior to 1977, when dictator and Marxist Mengistu Haile Mariam came to power in Ethiopia, Jews from the country were permitted to make Aliyah. But by the end of the 1970s, Aliyah to Israel from Ethiopia had turned into Aliyah of Rescue as Jews were suffering from persecution for engaging in Jewish and Zionist activities. And so began covert missions to airlift Ethiopians to new lives in the Jewish state.
Working with the Government of Israel (GOI), the Mossad Institute for Intelligence and Special Operations, along with the Israel Defense Forces (IDF) joined with The Jewish Agency to establish more effective procedures and improved conditions for Aliyah. The IDF and Mossad began to bring Ethiopian Jews to safety in Israel through numerous operations, and The Jewish Agency welcomed and housed the refugees in Absorption Centers upon their arrival in Israel.
Years of Aliyah operations
In the mid-1980s, "Operation Moses" aided the arrival of 8,000 Ethiopian Jews from refugee camps in Sudan to Israel, via intermediating countries, by foot, planes, and boats.
In the late 1980s and early 90s, 150,000 Ethiopian Jews moved closer to Addis Ababa, the center for Aliyah activities in Ethiopia, to await rescue. "Operation Solomon" in May 1991 saw 14,000 Ethiopian Jews arrive in Israel aboard IDF, El-Al, and Ethiopian Airlines aircrafts after American arbitration helped the Israeli government reach a settlement with Mengistu and the rebels, allowing the rescue to take place within 34 hours.
Throughout the 1990s, the GOI, along with The Jewish Agency. assisted Ethiopian Jews of the Qwara Province to reach the Jewish State. Since June 2008, The Jewish Agency, at the request of the Israeli government, has continued to make Aliyah from Ethiopia possible, according to the Law of Return 1970 Amendment of "Zera Israel" from Ethiopia.
Zera Israel refers to those who are blood descendants of Jews but, for one reason or another, who are not considered legally Jewish according to religious law. It literally translates to "Seed [of] Israel."
In the early 2010s, immigration of Zera Israel continued with "Operation Dove's Wings" which ushered in the final wave of Aliyah of 7,000 immigrants from Ethiopia and the Horn of Africa. The story of Ethiopian Aliyah appeared to come to an end in 2013 when we sponsored our last group flight from Ethiopia and closed our Gondar center. Of course, eligible immigrants were still able to make Aliyah as individuals.
The story continues
In November 2015, the Israeli government announced its intention to bring a new wave of up to 9,000 Ethiopians on Aliyah by 2020. Immediately, The Jewish Agency prepared to help in this endeavor. We put into place the necessary infrastructure on the ground in Ethiopia and planned for comprehensive absorption services in Israel and saw these Olim (immigrants) home to the Jewish State.
In October 2020, the Israeli government approved the immediate Aliyah of an additional 2,000 Ethiopians who are blood descendants of Jews by Spring 2021. Those waiting have been eagerly anticipating, some for more than a decade, this important decision that will allow them to make Aliyah and fulfill their dreams of living in Israel with their family members. Despite living in harsh conditions, they have maintained a strong Jewish identity and carry out Jewish rituals as part of daily life in this ongoing limbo.
Over the last decade alone, The Jewish Agency has chartered 167+ flights from Ethiopia to Israel. Prior to getting on the plane, we help Ethiopians in Gondar and Addis Ababa with nutrition, pre-Aliyah preparation courses and more before paying for their flights to Israel. Once these olim land in Israel, we provide them with their first home in one of our 17 Absorption Centers dedicated specifically to the needs of Ethiopian immigrants, as well as Hebrew and vocational training for adults, academic enrichment and after-school activities for the children, and social and recreational activities for all.
In November 2020, Jewish Agency Chairman Isaac Herzog, along with a Jewish Agency delegation and Minister of Aliyah and Integration Pnina Tamano Shata, traveled to Ethiopia to launch Operation Zur Israel, whose aim is Ethiopian family reunification after more than a decade of separation. The first Aliyah flights with about 500 immigrants on board landed in early December 2020.
Within the first few months of 2021, we successfully completed the first part of Operation Zur Israel. The entire operation included a total of nine flights and facilitated the Aliyah of 2,150 Ethiopian olim (immigrants), including 70 babies, 219 children, 674 young adults and 35 older adults.
In November 2021, the Israeli government announced its decision to approve the continuation of Operation Zur Israel, which will begin in 2022 and bring thousands more Ethiopian Jews home to Israel.