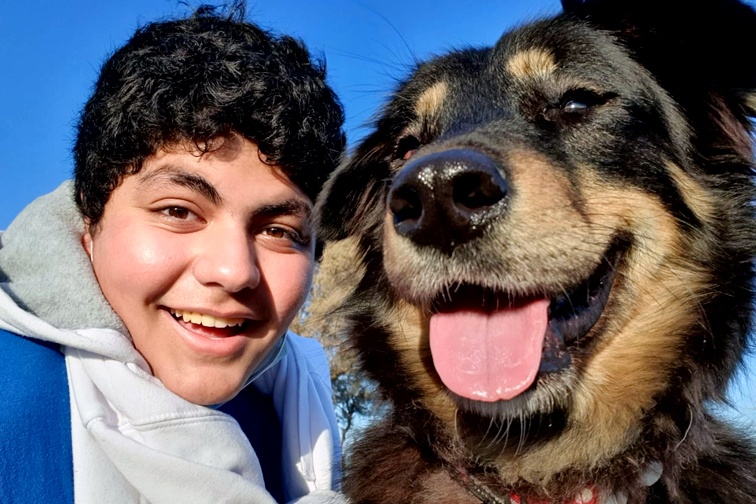 18 Jan

Gaining Skills through Dog Rehabilitation
Gaining Skills through Dog Rehabilitation
As a student at The Jewish Agency's Hadassah Neurim Youth Village, Nehoray trains dogs at the village's Dog Rehabilitation Center and in the process, works on himself.
Gaining Skills through Dog Rehabilitation
As a student at The Jewish Agency's Hadassah Neurim Youth Village, Nehoray trains dogs at the village's Dog Rehabilitation Center and in the process, works on himself.
Nehoray, a high school senior living in the Hadassah Neurim Youth Village, has just one big regret in life: "that I didn't join Neurim sooner."
Born and raised in Jerusalem, Nehoray was enrolled in the Israeli Air Force Flight Academy but felt the long days in school didn't allow him the time he needed to develop outside the classroom or pursue any hobbies. He decided to look into different schools nearby and at first, shied away from considering youth village due to stereotypes and stigmas about its students. But as he read more about youth villages, he opened up to the idea – and once he visit Neurim, he knew immediately it was the place for him.
Hadassah Neurim, located near Netanya, is a youth village that houses and educates youth ages 12-18 who suffer from severe emotional, behavioral, and family problems. A joint program of The Jewish Agency and Hadassah – The Women's Zionist Organization of America, in partnership with The Jewish Federations of North America, it offers its students the support they need so they can be contributing, valued members of Israeli society.
"The staff and teachers here couldn't be better. When I was having a hard time with math, the school arranged for me to receive after-school private lessons and moved me to a smaller class with a different teacher which I understand a lot better. Now, I've never felt more comfortable with the subject!" recounted Nehoray. "The instructors are really there to help me with any problem I have and we are also offered amazing opportunities and activities after school."
Nehoray has been a student at Neurim for three years now and as a big animal lover, one of his favorite after-school activities is working with dogs at the village's Dog Rehabilitation Center. At the therapeutic kennel, students learn to care for and train the dogs, most of whom have various behavioral problems, so they can be adopted by families. Throughout the process of working with the dogs, students feel empowered and gain valuable skills.
"I always say that working with the dog on its problem really allows you to work on your own. I've learned to deal with frustration from when a dog forgets or doesn't understand a command and how to look at problems from different angles, like trying a different approach towards a dog," shared Nehoray. "Patience is also a very big thing I've learned and most importantly, responsibility, as the dog that depends on you to lead it and take care of it."
"I've worked with all types of dogs over the years, some too sad to move and others too energetic to lay down. For each dog, you have to figure out their own special treatment program in order to help them be the best version of themselves and ready for a new loving family," Nehoray explained.
As Nehoray's graduation gets closer, he has started planning for life after Neurim, and intends to join a 10-month pre-army academy to prepare himself physically and mentally for the army, as he aims to be part of the paratroopers unit. But until then, he's enjoying each day at the youth village and is thankful to be a student there.
"I am surrounded by amazing people and I've grown so much at Neurim; my days here are truly so fulfilling," Nehoray added. "I wish I'd have come here sooner!"