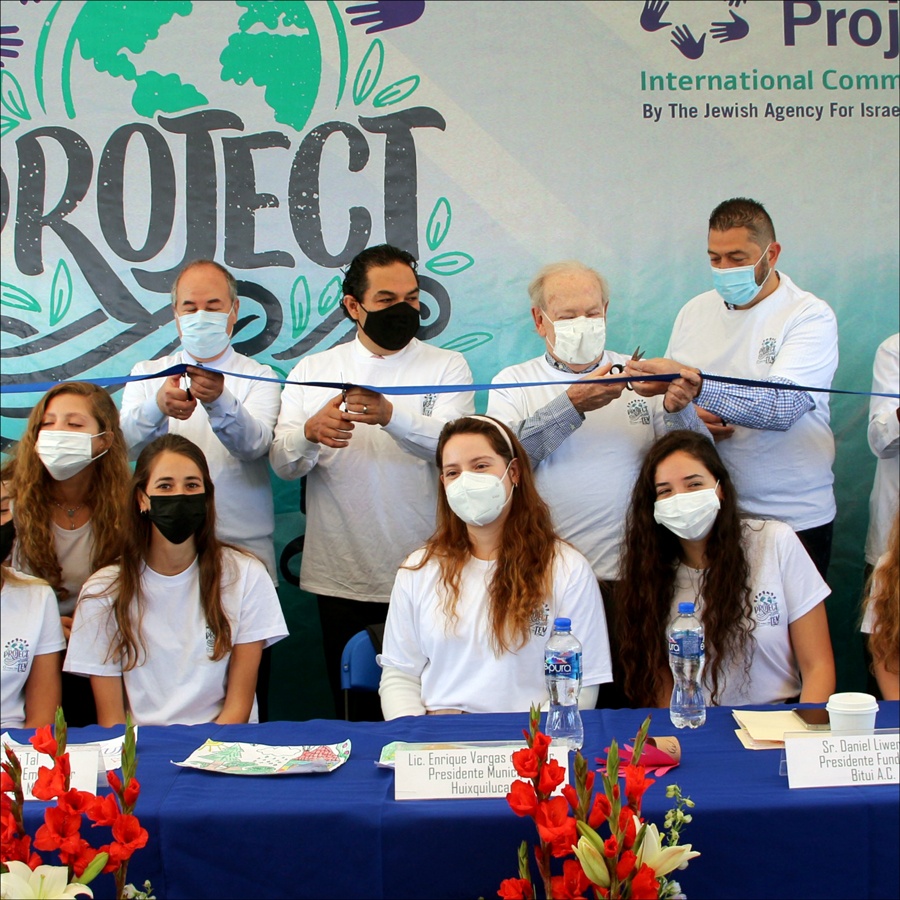 18 Aug

A New Project TEN Center in Mexico City

In response to urgent needs arising from the COVID-19 pandemic, The Jewish Agency launched a new volunteer center for the Project TEN service-learning program in Chimalhuacán, Mexico City.

The initiative is a collaboration between The Jewish Agency and CADENA, with support from Keren Hayesod. The new center draws volunteers from Israel and around the Jewish world for three-month-long Tikkun Olam (repairing the world) projects, empowering local children and teens in Mexico City through educational and community activities.

Andrea is from Mexico City and is serving as a local coordinator for the new center. She has long been active in CADENA, a Mexican Jewish nonprofit, and started her journey with Project TEN by volunteering in Israel through the CADENA at the TEN Center in Harduf. After coming back from Israel, she continued to work with CADENA which led to her involvement at the new TEN center in her hometown.

"I've been working at the Mexico Center now for three months and our first cohort just finished volunteering here in mid-August," shared Andrea. "As coordinator, I work and live alongside the volunteers, helping them with their Spanish, making sure projects are completed and teaching them about the local culture."

The Mexico City center's opening ceremony was held in mid-August at the Shimon Peres Park in the municipality of Chimalhuacán in the presence of the Ambassador of Israel to Mexico Zvi Tal; the head of The Jewish Agency in Mexico, Ari Messer; the local mayor; and senior leaders of the Jewish community in Mexico.

Previously, Project TEN operated in Mexico in the province of Oaxaca, but the center was shut down during the pandemic. The move to open a new volunteer center was led by Daniel Liberant, a leader of the Jewish community in Mexico, with the goal of assisting the local population during this challenging period.

"With a bigger population in Mexico City, this new center is able to serve more people," said Andrea. "Here in Mexico especially, many communities we work with are more isolated. Volunteers who come here end up really expanding their horizons."

The Jewish Agency's Project TEN currently operates in eight countries: Israel, Mexico, Uganda, Ghana, South Africa, Greece, Cambodia, and Ethiopia. The next cohort will arrive at the Mexico City Center in September.

"Having gone from being a volunteer myself to now acting as a coordinator, I can say with confidence that this experience is not just one that helps people, but really also benefits the volunteer. It fills your soul and gives you tools for the future," reflected Andrea. "Being able to make a difference is amazing and those who participate in Project TEN call it life-changing."

In Israel and developing regions around the world, Project TEN enables volunteers to participate in an integrated curriculum focusing on Jewish values and community, and to engage in a global dialogue on Jewish identity with their peers.