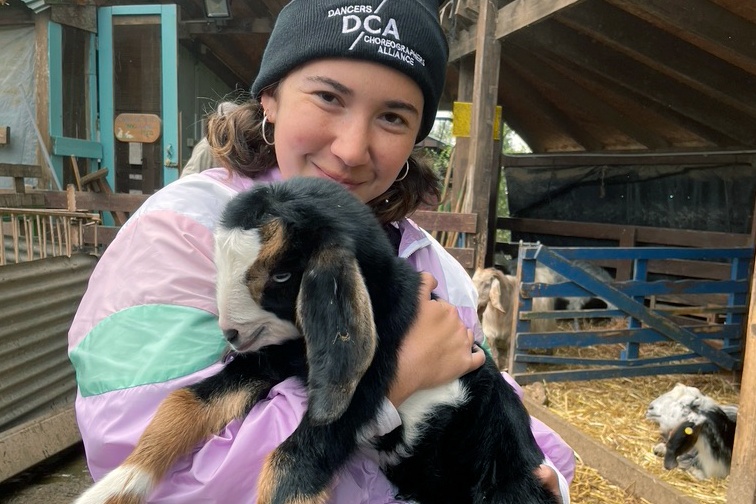 07 Sep

Rediscovering Passion and Purpose through Project TEN
Rediscovering Passion and Purpose through Project TEN
Sylvia's Project TEN experience in Israel helped deepen her relationship with the Jewish State and gave her a renewed sense of purpose for her future.
Rediscovering Passion and Purpose through Project TEN
Sylvia's Project TEN experience in Israel helped deepen her relationship with the Jewish State and gave her a renewed sense of purpose for her future.
When Sylvia, 23, graduated from New York University in 2021 after studying child development, disability and performance, she emerged into a world recovering from the pandemic. The native Philadelphian had thought she would immediately attend grad school or look for a job working within the performing arts or with children. However, after spending over a year completing online classes, Sylvia felt she needed to reconnect with her passions and the reasons why she wanted to work in the creative arts and helping fields in the first place – and she wanted to do that in Israel.
"I had been to Israel many times before and always found my visits meaningful. In a world torn apart by illness, conflict and hate, it felt more right than ever to return to Israel for my post-college gap year," explained Sylvia. "Project TEN seemed like the perfect fit as I could join a cohort of young leaders devoted to making our homes and communities a better place."
Project TEN is The Jewish Agency's service-learning program that promotes social resilience in developing communities around the globe and in Israel. Volunteers are young Jewish adults from all over the world who work alongside locals while engaging in a global dialogue on Jewish identity and values with their peers.
Beginning in fall 2021, Sylvia volunteered at the TEN center adjacent to Kibbutz Harduf in the lower Galilee for five months. The Kibbutz specializes in creating social and educational community projects that promote a Jewish-Arab partnership, empowering disadvantaged populations and equal opportunities.
Twice a week, volunteers spent time with residents in an assisted living facility on the Kibbutz who had varying intellectual, mental and physical disabilities, doing activities including baking, working with therapy horses and more. The rest of the week, volunteers worked in the gardens and taught English at Arab schools nearby. In the evenings, they would participate in various workshops as a cohort which included Hebrew lessons, Arabic lessons, theater classes and geo-political conversations.
"The relationships we built with the kids in the Arab schools were of immeasurable value and the connections extended out into the community as well," Sylvia shared. "Families in the surrounding villages would recognize us as members of the TEN cohort and treat us kindly even if we had never worked with their kids specifically."
For Sylvia, her Project TEN experience was so impactful, that when her five months of volunteering in Israel were done, she came back to the States and has been interning for the organization.
"Project TEN helped connect my deep feelings about Israel to my passion for helping children experiencing difficult social/emotional issues. I decided to intern for Project TEN because as I start my professional career, I want to still hold the values that I got from this program close," said Sylvia.
In the future, Sylvia plans to pursue a master's in Drama Therapy and possibly complete a doctorate in Psychology focusing on expressive arts therapies for children. In the meantime, she is continuing to volunteer and work in the Jewish professional world, all while spreading the word about Project TEN.
"There's nothing else like Project TEN," Sylvia stated. "It's uniquely special and offers so much to those who participate. It gives people a greater global perspective on their lives and helps direct people towards their greater purpose in life."