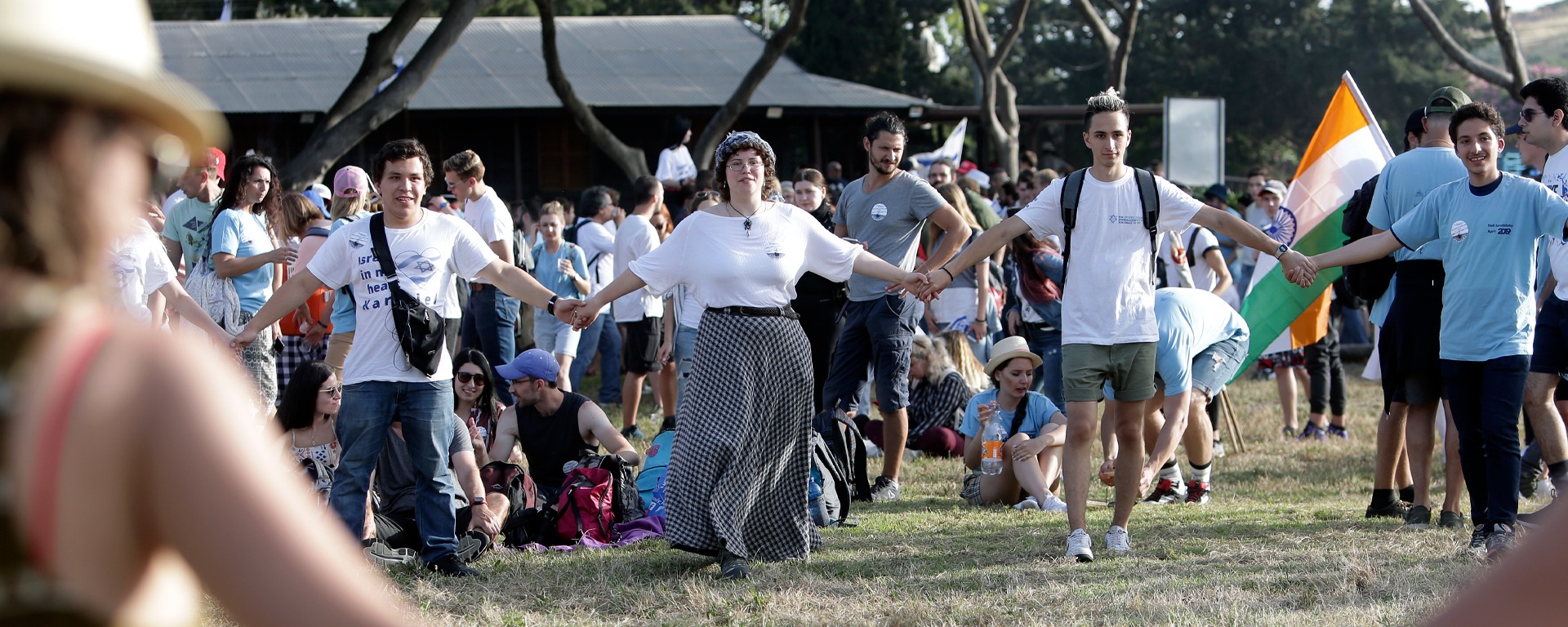 20 Jun

2018 Performance Report – We Are There

The Jewish people can continue to live and thrive as a global family only when we understand who we are, where we have come from, and all the possibilities that lay before us when we work together. The Jewish Agency strives every day to ensure that Jews of all ages have pathways to explore and express their Jewish identity and connection to Israel.

Our flagship programs create relationships between Israel and Jewry worldwide. Among these, Masa Israel Journey makes it possible for thousands of young Jewish adults to spend 2–12 months in the Jewish state. Partnership2Gether builds bonds between global communities and cities in Israel.

In addition to helping Jews experience Israel, we also bring Israelis to Jewish communities around the world. Shlichim (Israeli emissaries) work within youth movements, Jewish schools, synagogues and college campuses in North America, South America, Europe, the former Soviet Union, South Africa, Australia and New Zealand. Often, Shlichim are the first real connection young Jewish people have with an Israeli—an important first step to creating a bond with our shared homeland that can last a lifetime.

Each year, thousands of these emissaries also work at Jewish summer camps and day schools around the world, introducing kids to Israeli culture, holidays and Jewish traditions. Across the former Soviet Union, where there was dramatic Jewish identity loss during the communist regime, many children have their first experience with Judaism at Jewish Agency camps.

We also connect young Israelis to world Jewry and their Jewish identities through a new educational and cultural program called AmiUnity.

Our objective is to offer opportunities for Jewish people to discover the richness of Jewish and Israeli culture, and to ensure that Israelis feel they are a part of the global story. We do this in partnership with the Government for Israel, NGOs and Jewish communities, working together toward our common goals.

The Jewish Agency is proud of all we have accomplished since our instrumental role in founding and establishing the State of Israel in 1948. Today, we're focused on developing future leaders who will keep Zionism's pioneering spirit alive. We give the next generation of Israelis a deep understanding of Israel's role in the Jewish world. Our aim is to inspire and empower them to make Israel a more accepting place and to bridge the gaps between Israel's rich and poor.

Our Young Activism programs create new frameworks for the youth of Israel to volunteer and enrich the lives of those in vulnerable communities. We train professionals to serve as Youth Futures mentors, pairing them with individual children and families, impacting entire schools and communities.

And we provide direct support to hundreds of at-risk teens living in our residential Youth Villages, where they receive therapeutic and social services. Tens of thousands of older adults, immigrants and single-parent families live in our subsidized housing. For new immigrants who need assistance as they integrate into Israeli society, we also offer immersive Hebrew classes, professional training and licensing programs for lone soldiers who are serving in the Israel Defense Forces (IDF).

Through our network of pre-army academies, high school graduates are introduced to Jewish and Israeli populations they may have otherwise never met, while preparing mentally, physically, emotionally and socially for their military service in the IDF.

In 2018, we worked with the Israeli Ministry of Education to adopt Jewish Peoplehood as the core educational theme for the entire public school system. This helped us make significant strides toward empowering and educating future Israeli leaders. By teaching them about the vitality of Jewish life around the world, they now have the knowledge to ensure that Israel is the national home for all Jews.

Anti-Semitic speech and violence is escalating at an appalling rate globally, threatening the ability of Jewish communities and individuals to live freely and openly. The Jewish Agency is actively confronting this deeply troubling trend.

Our new Chairman of the Executive, Isaac Herzog, has brought this urgent matter to the attention of many high-level officials on behalf of The Jewish Agency. In particular, he is working to convince them to adopt the definition of anti-Semitism composed by the International Holocaust Remembrance Alliance (IHRA).

The Jewish Agency is leading the fight against anti-Semitism on a grassroots level as well. Hundreds of Jewish Agency Shlichim (Israeli emissaries) work in Jewish communities worldwide, teaching their constituents and the wider public about Judaism and Israel.

When anti-Zionist activity takes place, our Shlichim are trained to respond. During quieter periods, Shlichim proactively plan events and build community partnerships that provide platforms for Israel's narrative. Israel Fellows (University Shlichim) across North America and Europe not only counter Boycott, Divest and Sanction activities but also work year-round to expose non-Jews on campus to Israel's culture and complexities.

The Jewish Agency's Security Assistance Fund supports Jewish institutions, such as schools and synagogues, that are threatened by anti-Semitic vandalism and violence. The fund helps with installing physical structures and systems (fences, closed-circuit cameras, bulletproof windows, intercoms, etc.) and facilitates greater collaboration with local law enforcement. In recent years, allocations have focused on institutions in Europe – including France, Germany, Belgium and Spain – and Turkey.

When Jews are attacked, The Jewish Agency is swift to react. Within days of the murderous shooting against worshipers at Pittsburgh's Tree of Life synagogue, in partnership with the Israeli Ministry of Foreign Affairs, we engaged with the Israel Trauma Coalition (ITC) to send a team of Israeli trauma therapists to teach local leaders how to respond to their constituents' fears – and their own. On our homefront in Israel, we continue to provide rehabilitative services and financial assistance through the Fund for Victims of Terror. And The Jewish Agency's covert Aliyah of Rescue operations facilitate safe passage to a new life in Israel for Jews living in hostile countries.